How to Pair Food with Cocktails
23 Sep 2010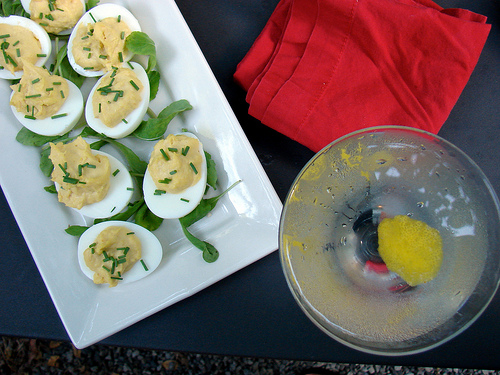 Knowing how to pair food with cocktails requires a lot of knowledge on the various types of foods and drinks. Not everyone knows how to pair food with cocktails. But at the same time, pairing food with cocktails is an art in itself and not definitely, a simple man's game. One needs to have the best knowledge on the finest of foods and drinks and should have the right blend of creativity and innovation to match the right kind of food with the right kind of cocktail. Only when the pairing goes perfect, does the whole look emerge out sublime. While, many of you would say that the job of pairing food with cocktails is that of a mixologist and a chef, there are some enthusiasts among us who would love to acquire this art and craft just for the sake of it. 
The concept of pairing food with cocktails
The concept of this art of matching food and cocktails emerges right from the concept of cooking. In cooking, you pair up the textures and the flavors in a way which complement the rest of the meal or dish. To do that, you use aromatic spices, different herbs and assorted fruits and vegetables. The same idea is employed by the professionals when they pair up food and cocktails. The ingredients, the flavors, the textures and everything else are taken into account when some food is to be matched with a particular cocktail or vice versa. 
The best food and cocktail pairings
I have noticed that some of the finest food and cocktail pairings are accomplished by matching single, small delicacies with mixed spirits. People often go wrong with full meals, though that's not always the case and definitely not, when the art of pairing is performed by an expert chef and a mixologist. But universally, it is always a little easier to pair up a single dish with a cocktail rather than having a platter of assorted flavors. 
Some pairings you can never go wrong with
If you are a novice willing to learn how to pair food with cocktails, then I would suggest you to begin your course with a handful of tried and tested pairings. Once you get them right, you can be on your own. After all, such a creative art of pairing food with cocktails is best left to your unique sense of innovation, your own artistic stills and your special knowledge of food and liqueur. So, here are some food and cocktail pairings to begin with – 
When it's an ice cream sundae – Pick a neat Bourbon spirit to pair up with an ice cream sundae. The astringency of the cocktail is perfect to balance the cold and sweet ice cream and overcome its creamy and saucy texture. 
When it's the smoked trout deviled eggs – Go simple. You can never go wrong when you team up a scotch cocktail with chocolate. 
When it's the smoked trout deviled eggs – Pair up the dish with a classic Beefeater martini combined with a gin in the ratio of 3:1. The crisp and herbaceous flavor of the martini cocktail is unbeatably good with a complex appetizer such as this.
Picture Source: flickr.com 
How To Pair Food With Cocktails