How To Plan A Family Reunion

22 Sep 2010
It is good if you know how to plan a family reunion so that you are able to renew all your lost contacts, introduce new members of the family with others and to celebrate your heritage. Planning a family reunion requires some planning because you will be bringing together family members who haven't met for long – and you need to prepare very well for the event so that everyone enjoys with great food, drinks and some  lovely decorations which will make the event a memorable one. Here are some ways to plan a smooth and enjoyable family union for your family.
List of members: This is the first task you need to do. Make a list of your family members, their spouses, partners and children. Take time to prepare this list so that you do not miss out anyone in a hurry.
Date and place for reunion: Choose a convenient date for the reunion, so that everyone can attend. Summer months are the best times to plan a reunion. Choose a centrally located place where everyone can reach conveniently. Check out different reunion sites such as inns, country clubs and hotels and make reservations as early as possible.
Décor: You have to plan the décor of the place very well. Here are some ideas which shall help you:
• Put of old pictures of your family on the walls…which will help to bring back members.
• Include pictures of marriages, picnics, get-togethers.
• You can engage people to put up videos to keep everyone engaged. You can keep large screens so that everyone can view what is happening around.
• Lighten up the place very brightly; use good music keeping in mind the interests of all generations.
• Keep enough space to sit and relax because everyone would desire to sit and chat for  a prolonged period.
Entertainment and fun: This is of prime importance in family reunions.
• Arrange for speeches – you can request the senior most member of your family to share interesting and memorable incidents related to your family members and occasions. Others can also take part in these speeches and share stories.
• Let the younger members of your family perform – plan small entertaining programs in the form of skits, dances, jokes and other performances which shall entertain others and keep everyone engaged.
• Arrange for some fun games for the teenagers and other youngsters.
• Keep ample magazines and books for those who wish to read and spend time their own way.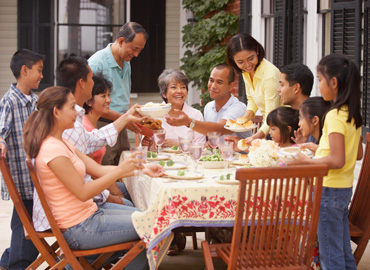 Food: This is of prime importance. It is best to engage the finest catering company for the event. Include snacks, drinks, main course meals and desserts in abundance. Here are some food ideas for your family reunion:
• Snacks – Cheese sticks, glazed pecans, oyster puffs, fried potatoes, cookies, candies,sea-food appetizers, crockpot appetizers, spiced nuts, garlic coated chicken strips, chicken cubes fried and many more dishes.
• Main course meals – Fried/steamed rice, ginger bread, soups, chicken/lamb/beef dishes, barbecued dishes, vegetables in skewers, pastas, noodles and so on.
• Desserts: Ice cream, pudding, caramel custards, pie, tarts, chocolate dipped cookies.
Image credits: kaixin.com.au, nstoresnow.walmart.com
How To Plan A Family Reunion