Top 10 Indian Chicken Dishes
21 Sep 2010
I love Indian Chicken dishes; there are so many variants to choose from. Your search for Indian Chicken recipes ends right here as we bring you a large variety of lip-smacking Indian chicken dishes that will surely make you crave for more. Here's a list of Top 10 Indian Chicken Dishes.
Top 10 Indian Chicken Dishes
1. Chicken Korma—This mild curry, in which yogurt makes a delicately creamy saucem is a favorite with many people who do not care for anything too hot or spicy. Very, very few people have not heard of Chicken Korma! This is an iconic Indian dish.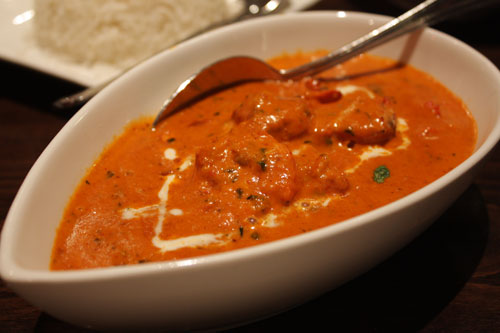 2. Chicken Vindaloo—A chicken vindaloo is a firey curry, and strictly not for the fainthearted! If you are worried about it being too hot, reduce the quantity of vindaloo masala.
3. Chicken Tikka Masala—Pieces of chicken marinated in yogurt flavored with ginger, cloves, chili powder, coriander seeds and lemon juice make for a delicately spiced combination. Among the most famous Indian foods, Chicken Tikka Masala is loved by people the world over. The nicest thing about this dish though, is that it's really easy to make!
4. Kashmiri Chicken—The addition of natural yogurt towards the end of the cooking time gives this a deliciously mild and creamy flavor, which makes a wonderful contrast to all spices.
5. Palak Murg—This mild chicken dish is both quick and simple to make, and the combo of chicken with ginger, coriander and chili powder is a highly successful one.
6. Chicken Makhani or Butter Chicken—Tomatoes and butter are the characteristic ingredients of a makhani, a refined and elegant dish. Naan bread is a good accompaniment.
7. Bangalore Chicken Curry—This "green" curry from central Southern India is make with a lot of fresh coriander and fresh chilies.
8. Chicken do Pyaza—Minced chicken is delicately spiced and then simmered with natural yogurt and tomatoes till the meat is cooked—an unusual combination.
9. Chicken Kassa—This powerful chicken curry is just the thing for devoted fans of spicy food. It owes some of its kick to a combo of spices used in making it.
10. Hyderabadi Chicken—It is a luscious&delicious chicken dish. The use of lemon juice in the recipe gives it a new flavor.
Check out all these yummy Indian chicken recipes at ifood.tv.  You will love this!
Photos:
http://www.breezemagic.net/image/images/388_butter_chicken_curry.jpg
http://lickmyspoon.com/wp-content/uploads/2009/02/chicken-tikka-masala.jpg
Top 10 Indian Chicken Dishes