How To Choose Food For A Baptism Party
21 Sep 2010
The baptism or christening party is the first formal party on the behalf of the baby, so you need to take special care in organizing the party and choosing the menu. How to choose food for a baptism party? The answer to this question will relatively depend on the time of the christening ceremony. If it is organized in the morning, then you should plan to serve lunch to your guests, however an afternoon tea party will be sufficient in case the program is held during early afternoon hours.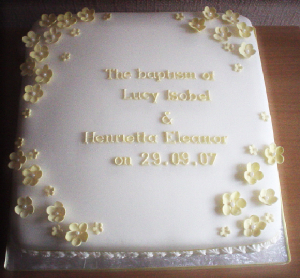 While choosing food for a baptism party, first and foremost you will make a list of all your invitees. You have to select the menus mostly depending on their choice. There could be people with certain food allergies or having medical restrictions on certain food. In case there are kids, then you have to plan out some kid-friendly recipe. Regarding the drinks also, you need to maintain couple of variations. All of your guests may not be fond of alcohol or wine, so you need to arrange soft drinks for these people.
Taking all the above factors into consideration, you should now come to the menu selection step. Since it is an important occasion, you must keep one or two special entrees in your menu. Other than the specialties, find few popular and common recipes, so that everyone can enjoy their choice of food. If it is an afternoon party, then you may go for an assortment of sandwiches, along with the fruits and desserts. However, for a full-course lunch party you may decide on serving a special type of cuisine like Italian or Mexican or Chinese and so on. This will help you to identify the special dishes and the normal dishes. Depending upon this, you can also select the dessert menu for the party.
A christening cake is must for the baptism party. Normally this is frosted in white and you can ask your bakery to decorate it according to your wish. While ordering the cake, you must keep in mind the number of people you are inviting, so that the cake can be served to all of them.
To decide on the drink part, wine or champagne will go perfect with the luncheon. Since it is day time, people may not prefer to drink strong alcohol like whiskey or rum. For the kids, you have many choices other than the normal carbonated drinks, which can be apple cider, ginger ale, grapefruit juice etc.
Selection of menu is not all for this special event. You should also think of presenting them in a nice manner. In case it is a buffet lunch, then arrange the food serving table in a proper way by using clean and dry utensils and cutlery items, vegetables cut in decorative shapes, flowers or ribbons etc. All these intricacies will definitely add to the taste of your food.
Image Courtesy:truly-scrumptious.me.uk
How To Choose Food For A Baptism Party