Easy Picnic Food Recipes

17 Sep 2010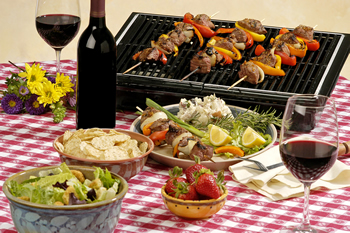 Are you running out of easy picnic food recipes? In case you are not able to think about newer snacks, drinks and food items for your picnic…here are some interesting recipes for your picnic. These are said to be easy recipes for picnic food because they are good to eat and very easy to prepare too.
Potato salads: This is an all time favorite picnic food. It is easy to prepare and nutritious with eggs, onions, parsleys, cream and mayonnaise. It tastes wonderful when sprinkled with black pepper and salt before eating. Variations are usually brought in the dressing of the salad making it more sumptuous and innovative.
Smoked salmon rolls: You will find this to be a staple recipe of all summer picnics. You will be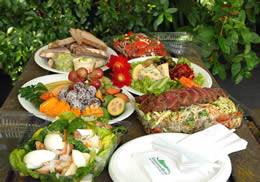 eating sliced smoked salmons which are filled with cheese. These rolls are 2 inches in size and are normally served cold.
Chocolate chip cookies can make wonderful snacks. These are made on chocolate chips and oatmeal which makes it a favorite of children. These can also be used in making ice cream sandwiches – thus helping you to make another picnic food without many hassles. These cookies taste best when you eat them cold.
Sandwiches are always popular in picnics. They can make your ideal lunch. You can choose between chicken, meat, ham, beef or pork sandwiches. Those who are fond of green leafy vegetables can have vegetable sandwich with some helping of olive oil and cheese. Sandwiches can be had for breakfast also if you have some heavy main course meal for lunch.
Cooked meats can make some great lunch and snacks. You can have nuggets, fillets and pies which make wonderful snacks. You can have ready to eat completely delicious roasted chicken for lunch. You can also have barbecued meat dishes with sauce along with noodles, rice and bread for your lunch.
Fruit salads are the healthiest picnic food you can think about. If you wish to bring a change in their taste or make them interesting you can serve these salads in ice cream cones. Kids will love the idea of having fruits in cones while it will be easy for you to serve them.
Any picnic is said to be incomplete without chilled drinks and desserts. If you are thinking about desserts you can include ice creams, puddings and chilled yogurts served with some fresh fruits. You can try out wide range of frozen drinks, mixed fruit drinks (apple, mango, pineapples, blueberries, melon, and lemon) or energy drinks. In case you do not like these you can even choose to have some tropical drinks in your picnic. Wine and chilled beer are also wonderful options for any picnic.
Image courtesy: hollisthampers.co.uk, diycatering.co.nz, bakersroyale.com
Easy Picnic Food Recipes