Top 10 Grilling Ideas For Labor Day Party – Grilling Is Not Grueling

4 Sep 2010
Come September, and the first Monday of the month and you have  Labor Day celebrations  anointing the special day with a holiday treat and probably a  special barbeque.
You are all set for the Labor day party but are falling short of ideas for your barbeque.
So here are some top 10 grilling ideas for labor day party to make it roll and bounce like the spirit of the holiday !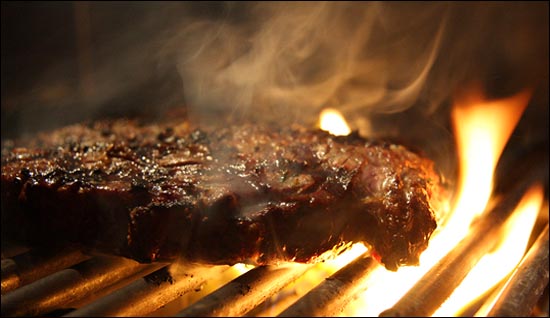 •    Corn on the cob, grilled: You would be familiar with grilling corn on the cob. Here is a tip to make it a grilled treat. Baked garlic heads simply squeezed into the mixture of lemon-zest, cilantro, tarragon and oil and seasoned with pepper and salt; and you apply this spread on the peeled corn-ears(after the silk threads have been removed ). Cover the ears once again and they go on the grill, with the flavor of the 'herbed' garlic. So you have a grilled corn but with additional flavors- garlic, herbs and the 'smoked' taste, which simply seeps into the air.
•    Tomatoes and Scallion on the grill, for a grilled salad:  Here, you give the tomatoes and scallion a good rub with olive oil before putting it on the grill. Grill the tomatoes and scallion for not more than 1 minute per side(till it looks blistered), transfer the contents to a platter and squeeze lemon juice over it, with a drizzle of the lustrous olive oil. Indeed an innovative way to top your party as one of the chosen top 10 grilling ideas for labor day party.
•    Fingerling potatoes with pumpkin seeds : Par-boiled Fingerling potatoes, with ingredients such as tomatoes, shallots, garlic, pumpkin seeds, Spanish paparika(For the Romesco sauce); with the fingerling potatoes  going on the grill for a good roast. The grilled potatoes are transferred to a platter and drizzled with Romesco sauce.
•    Green bean salad(grilled) with lentil vinaigrette : Black beluga lentils, tomatoes(to make tomato oil in basil, and bay leaf), shallots , pancetta, red pepper, red argula…and a variety of ingredients to make the grilled bean salad with lentil vinaigrette, a salad of choice!
•    Grilled Corn with Mango-Habanero Butter : The king of fruits all set to adorn the corn on the cob grilling away to glory!, with chopped mango pieces, mango nectar haberono chile(for the mango puree, which is freezed,  and then added to the butter, with cilantro leaves). Your grilled corns with the husks on, get 'dressed' in the mango-habanero butter!
•    BBQ chicken with coconut scallion rice : A nice way to spice up your party and adding the pep to the top 10 grilling ideas for labor day party. Ginger, garlic,  pepper jelly, cider vinegar , chicken legs… What next? Chicken on the grill, given a pat with the spice-mixture, garnished with scallions and served with jasmine rice.
•    Zesty steak salad : Vegetables such as radish, napa cabbage, watercress, lettuce, green onions on a platter, with snow peas to 'pearl' the zesty steak salad, and a mélange of spices such as pepper, ginger, garlic, soy sauce, wasabi powder…and your grilled steak, seasoned and garnished to the ultimate flavor!
•    Grilled salmon steaks with tarragon and lemon :  Easy 'n' quick way to spin off with a dish as a bright tip from the top 10 grilling ideas for  labor day party. Grilled salmon steaks (coated in olive oil) pepped up with pepper, with lemon and tarragon slices to dress it up. Mouth-watering and lip-smacking as well!
•    Marinated grilled steak : Sherry vinegar, olive oil, balsamic vinegar, pepper ,basil leaves, are mixed and the steak is added to the mixture for marinating. After grilling the marinated steak, garnish with fresh sprigs of parsley, for the authentic flavor of fresh herbs.
•    Jerk burgers with pineapple salsa : Beef, Monterey jack cheese, hamburger rolls, jerk-sauce with home-made salsa(prepared with crushed pineapple, red bell pepper, green bell pepper, fresh ginger, lime juice) give way to a juicy treat to your labor day party.
You could research more on the recipe ideas adapted from delish.com, and lhj.com
Labor day – a celebrated affair for all the energy that build up an economy and the nation,  a day to unwind with greater spirit reveling in food (the energy-source), with some great grilling ideas for a labor day party!
Photo Courtesy : http://www.huggingthecoast.com
Top 10 Grilling Ideas For Labor Day Party – Grilling Is Not Grueling