Varities of Cereals for Breakfast
12 Aug 2010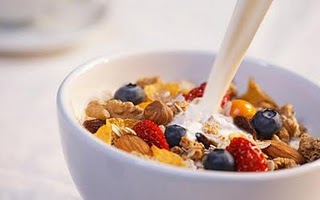 Nowadays you come across several varieties of cereals for breakfast. Nutritionists say that it is very important to eat a healthy breakfast to kick start every morning as it is the first meal of the day that provides energy to perform activities. Cereal is a famous as well as healthy breakfast choice. You can choose from the tasty and flavorsome varieties of cereals for breakfast . Some of these are very healthy while others may not be advised to be consumed by nutritionists because of their high sugar content.
Hot Cereal

Hot cereal, like oatmeal, is a famous choice for breakfast amongst children and it is healthy for adults too. Malt-O-Meal and Quakers Oats are the best-known brands that sell hot cereal. There are other brands too and all of them offer plain, flavored as well as sweetened options of hot cereal. The plain version of these cereals can be flavored using fruit, honey or cinnamon, if needed.
Whole Grain Cereal

Cereals which are prepared using whole grains prove very helpful in reducing cholesterol and subsequently improving heart health, says the American Heart Association. Grape Nuts, Shredded Wheat and Cheerios are some popular breakfast cereals which are high in whole grains.
Organic Cereal

Organic cereal is much like its non-organic counterparts, with the only difference that it is produced without the use of pesticides and it is not genetically engineered. Enviro Kidz, Cascadian Farms, Peace and Nature's Path are the most popular brands of organic cereals. As with non-organic cereals, you must check the nutrition information.
Bran Cereal

If you do not get sufficient fiber intake in your diet, having a bowl of bran cereal porridge is the right choice of breakfast for you. Raisin Bran and Fiber One are the two most popular brands of bran cereal. Fiber also helps you feel fuller for a longer period of time, thus, making it easier for you to avoid a mid-morning snack.
Sugary Cereal

Sugary cereals, such as Cap'n Crunch, Lucky Charms and Frosted Flakes are the least nutritious out of all the varieties of cereal choices but even then they are highly popular with consumers. These cereals are highly processed and possess a large amount of sugar and other preservatives. Sugary cereals are very popular, especially with children.
Image credits : thebatiblog.com
Varities Of Cereals For Breakfast