Wedding Brunch Ideas
12 Aug 2010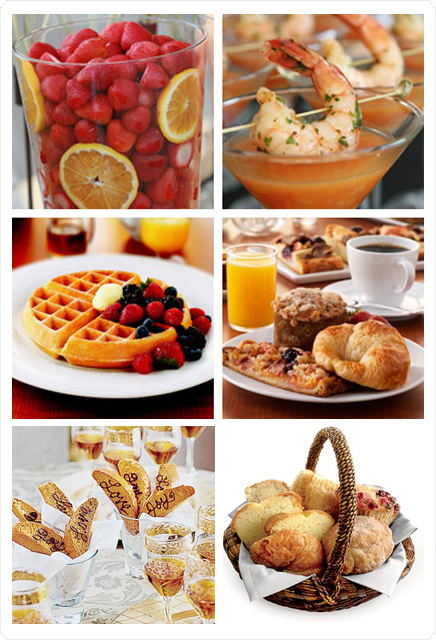 Wedding brunch ideas must synchronize with the  time of day when the ceremony takes place. A brunch wedding reception takes place earlier in the day and hence its preparations are entirely different from those done for a traditional evening wedding. Softer décor and light menu would be the perfect choice for a morning occasion.
Brunch Menu
Brunch is the time between lunch and breakfast. Therefore, foods that fall under both these categories must be offered at the wedding. Some great breakfast foods such as pastries, eggs, and muffins can be served as brunch too. Easy and filling lunch items like sandwiches and cold pasta salads are good options too. If you want your guests to have some fun too, you can offer a single item in several different methods. It would be nice to have an omelette station which offers tailor-made omelettes. You may also have some varieties of exotic syrups or jams. For desserts, fruit salads and light cakes, such as angel food cakes are the best options.
Alcohol
Beer and hard liquor are great options for an evening party but guests at an early hour wedding are less likely to have them. You can rather have alcoholic beverages for drinks. Bloody Marys and Mimosas are the best options for alcoholic beverages. A simple champagne toast will also work wonders. Tea, coffee and juices must also be included.
 
Ambience
Ambience of a wedding brunch must be soothing and calm. Softer music must be played in the background as loud music would not suit the settings of this ceremony which takes place earlier in the day. Do not even think of having a rock band for day weddings. Instead, you may play recordings of melodious classical music which is perfect for setting up the right mood for the romantic morning. You may also create a CD of the two of you and play it during the reception so that the guests can watch it while they have their meal.
Additionally, the décor must really be simple. Use linens of soft and nude shades along with fresh flowers for decoration. Yellows, white, light pinks are perfect colors for a morning wedding. Darker shades are meant for evening ceremonies.
(image credits: google images)
Wedding Brunch Ideas