Top 5 Quick and Easy Breakfast Ideas
6 Aug 2010
Here are the top 5 quick and easy breakfast ideas for one and all. As we all know that breakfast is the most significant meal of the day.These ideas will require less efforts and they will supply the maximum amount of energy and nutrients that is needed to begin a day. A healthy start of the day can make a lot of difference to your routine. It is not always that you may have the time to make proper breakfast, but learning some quick ideas for breakfast can help you begin your day nicely, without having the need to skip this important meal.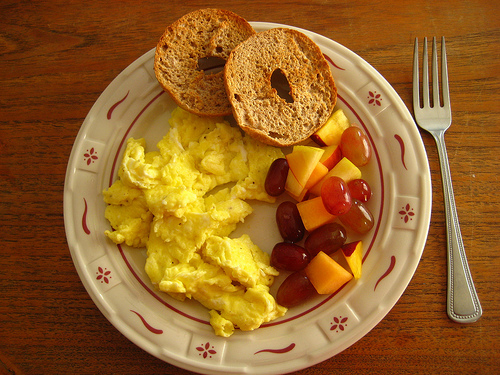 Eggs and Fruit

Hard boil the required number of eggs the night before, and peel and put them in a zip-pouch bag inside the refrigerator. Additionally, slice an apple and place it inside a bag to keep in the refrigerator. When you are ready for breakfast in the morning, eat the eggs and the apple together. Eggs will provide a lot of energy through proteins while apples will give you additional boost through carbohydrates and vitamins it possesses.
Oatmeal

Instant whole wheat oatmeal serves to be a nutritious as well as quick option for breakfast. There are several pre-packaged brands available in the market  that you may pick or you may choose to buy plain whole wheat oatmeal. You should then mix it with some milk and butter and heat it up. You may optionally add some blueberries or raspberries for taste. Oatmeal is rich in carbohydrates that give you immense amount of energy to kick start your day.
Smoothie

Most of you might like to have a cup of coffee for breakfast. I recommend trying a glass of delicious smoothie instead. Add half a banana, one cup of non-fat yogurt, half a cup peanut butter, one teaspoon of sugar, and any fruits of your choice in a bowl and blend them together until they become smooth. Pour this mixture in a cup and enjoy. You may try making the smoothie with a mix of several fruits to create your own personal flavor.
Whole Wheat Waffle
Whole wheat waffle is a yummy and easy to make breakfast item. It is a great alternative to plain toast. You must first toast a waffle as per your taste. Use peanut butter or natural jam as a spread on top of the waffle. This breakfast meal is rich in fiber and carbohydrates. You can even go for a whole wheat bagel in place of a whole wheat waffle.
Baked Potato

A baked potato does not only acts as an amazing side dish but it becomes an easy breakfast option too. Slice to open a potato and add some butter and broccoli  on top. Microwave the dish and add some salt and pepper according to your taste. This dish is rich in fiber, vitamins, calcium and carbohydrates.
(image credits: google images)
Top 5 Quick And Easy Breakfast Ideas