How to Cook a Native American Meal?
It would definitely be a novel and fantastic plan to prepare an authentic Native American meal for your family!! I did this just a few days ago and my girls just loved it, of course it didn't take too long for them to start fighting about who wanted to be Pocahontas!!! But in spite of the entire ruckus my Native American spread was taken to with glee. Check out my Native American Menu:

Black Bean soup
 
Black bean soup makes for a delicious and unique appetizer. This can be whipped up very quickly and had with nachos, or even a slice of lime and sour cream. Here is a black bean soup recipe that you will surely enjoy!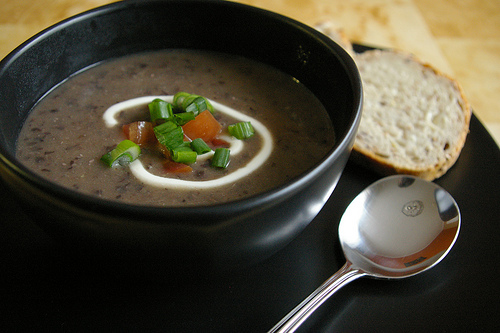 Tamale
 
Tamale  (tamal, tamalli) a traditional Latin American dish is made from masa, a starchy corn-based dough. They are either steamed or boiled in a leaf wrapper and often stuffed with meats, cheese, vegetables, chilies or any other preparation.  This can be served as a part of the main course.  This authentic native Indian dish originated in Mesoamerica as early as 5000 to 8000 BCE and became extremely common and varied in the past. You can also serve plain tamale with no stuffing along with re-fried beans and coffee.Here are a few tamale recipes I referred to when planning my Native American Menu.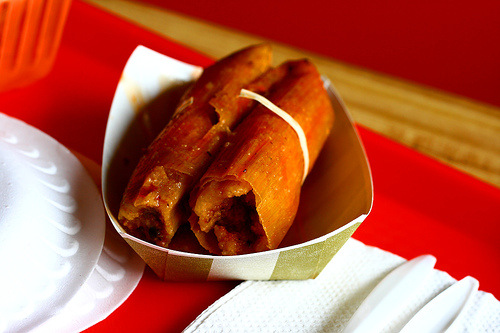 Champurrado
 
This addictive chocolate based drink is definitely going to bowl you over. Champurrado, a warm and thick drink made from masa or hominy flour, piloncillo, water or milk, cinnamon, anise seed and vanilla bean. Some ingredients like the cinnamon and vanilla bean can be removed or added according to your taste. You can also use alcohol in this drink depending on those at the dinner table. They are usually paired up with tamale on Dia de los Muertos (Day of the Dead) and at Las Posadas (the Christmas Season).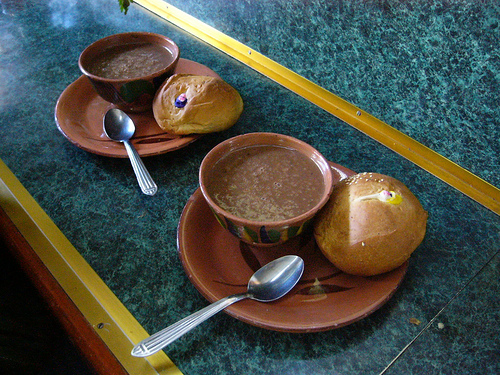 Pupusa
 
A pupusa is a traditional Native American dish made of thick, hand-made corn tortilla or made using maize flour dough stuffed with cheese, preferably soft cheese, cooked pork meat ground to a paste consistency, squash or re-fried beans or queso con loroco and a vine flower bud from Central America. Pupusa De Queso  filled with cheese and the pupusa revuelta filled with both cheese and beans are the  most common types.  I served my pasta with a yummy tomato salsa.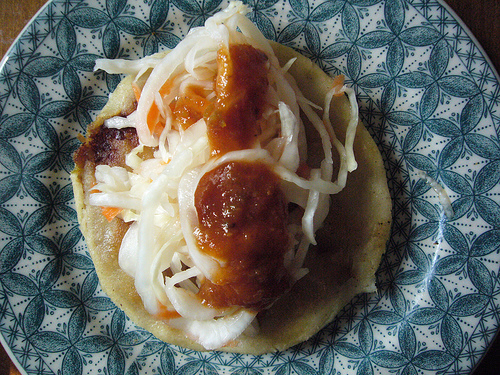 Pork Posole
 

Pozole or posole is a meat stew that is made from corn, meat, usually pork, chicken, turkey, pork rinds, sardine, chili pepper, and other seasonings. You can also make the vegetarian version but I like to serve my favorite pork posole.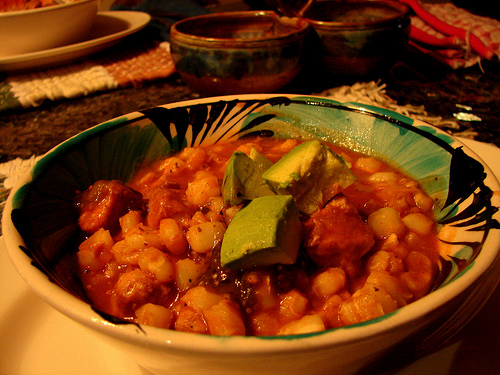 Navajo Peach Apple Crisp
 

A traditional Native American dessert is usually extremely sweet. Fruits play a major role in most of their dessert recipes. One of my favorite desserts from this traditional cuisine is the Navajo Peach Crisp. This simple recipe is easy to put together. It's a layered fruit dessert that is baked and is well known for its crispy texture. Personally I prefer to add a few slices of apple along with the peaches. This version is called the Navajo Peach Apple Crisp.
Image Credits
www.flickr.com
How To Cook A Native American Meal?