Top 10 Fast Foods List
19 Jul 2010
Here is the list of the top 10 fast foods and what makes them better than the others.
1. Burger King's

Burger King's Whopper is simply amazing so much so that it deserves to occupy the first place in this list of top ten fast foods. It mainly comprises of bacon and cheese and it is immensely popular across the world. It is the most preferred fast food item in the world and for this reason Whopper emerged as the king of other fast foods. The stuffing includes a lettuce with a mix of ketchup and mayonnaise followed by cheese toppings.
2. Taco Bell Beef Burrito

Taco Bell Beef Burrito is a cheesy Mexican fast food that came up with the punch line "Yo quiero Taco Bell". It is a delicious snack which is liked by one and all.
3. Cheese Pizza from Papa John

Papa John's cheese pizza is not only a flavorful fast food but it is a visual delight too. A lot of cheese liquid along with the juicy tomato syrup runs on top of fine pizza crust. The pizza is surrounded with cheese up till its edges. It tastes yummy when it is served hot right out of the oven and the cheese ligers your taste buds right till the last bite.
4. A Big Bacon Classic from Wendy's

Most of the fast foods served at the Wendy's are very good in taste. For this very reason, Wendy's has had the maximum number of their preparations listed in the top 25 food items list. Big bacon classic served here comes along with cheese. It is very good in taste and very cheesy in texture. Wendy's has maintained a nice and entertaining ambience.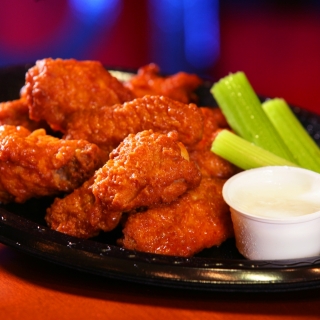 5. Chicken Wings, the Buffalo Style

Chicken wings are delicious. They can be eaten as a part of a casual meal or they may be served in a party. Despite their spicy packing, chicken wings are moist in texture. They are crisp and are loved by all ages. They are a popular fast food since ages and even today they emerge as a runner up fast food item through and through.
6. McDonald's Big Mac

The Big Mac which can be seen on the menu card at McDonald's is undoubtedly a super star amongst all the other fast food items. Big Mac is stuffed with two pieces of beef that are coupled with sauce, cheese rolling, onion chops, lettuce toppings and pickles galore. It is a very tasty and amazing food item.
7. KFC's Original Chicken

Kentucky fried chicken is KFC's specialty. It is amongst the most popular foods all around the world.
8. Roast Beef Sandwich from Arby

The first item to be launched in the Arby restaurant was the roasted beef sandwich. It is much liked by those who believe in originality. It is simple in preparation and great in taste.
9. The Subway Steak and Cheese

Submarine sandwich is my favorite and I am sure even you would not say no to it. The sandwich is made with the freshest ingredients in front of you and you can add any toppings to it that you may desire. It is light and fresh and it is entirely up to you to keep it spicy or plain.
10. Pepperoni Pizza from Pizza Hut
Pizza hut is an amazing pizza place. Its pizzas with baked tops and filled crusts are very famous. The Pepperoni pie is most liked by people than other served dishes.
(image credits : www.4thringroad.com, tjbrown.com and theblogthatatemiami.com)
Top 10 Fast Foods List