How To Prepare Food For Chocolate Fountains

24 Jun 2010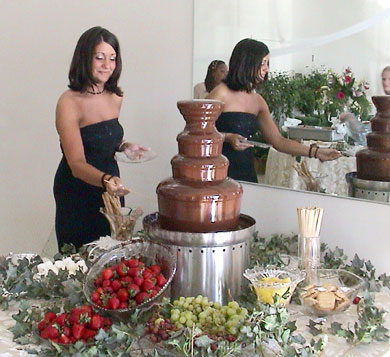 If you want your party or get-together to be memorable not only for your bouncing, cascading chocolate fountain with its aroma wafting through the guests, invitingly, but also for the choco-accompaniments, it would do well to pick some ideas on how to prepare food for chocolate fountains.
Some foods that suit best with chocolate fountains are marshmallows, strawberries, sponge finger biscuits, pineapple, gummy snakes and bears, banana, apple, and pear. However, much as you and your guests would be tempted to take a dip with these foods in your chocolate fondue bouncing its way down through the tiers, it's advisable not to do so. First the tips: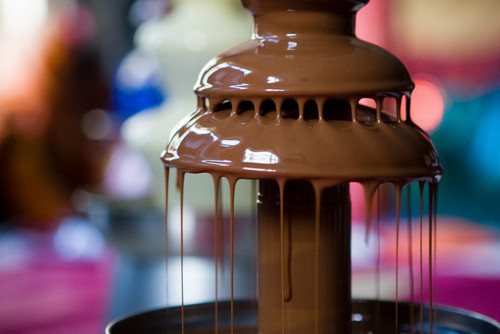 •  Firstly, your fruits (the choice here being water-melon, strawberry and pineapple) go for some bit of dressing up. In case of strawberries, make sure to remove the stems and the leaves, and pineapples are more co-operative when peeled and sliced, and watermelons are less resistant when deseeded.
•  Prepare a cake which is unfrosted and cut into cubes of size which comfortably fits onto your dinner plate.
•   With a foot-long bamboo skewer that is pointed at one end insert the strawberry, the pineapple or melon, spaced two –inches apart. You could repeat the procedure with the remaining skewers.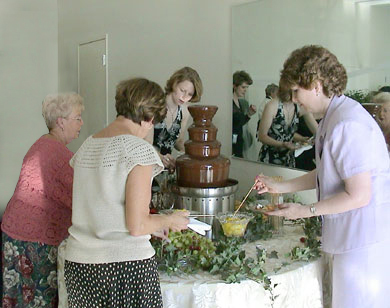 •  Now, place the skewers under the chocolate fountain till they are properly 'bathed' in the melted chocolate.
• The cake cubes prepared initially can be placed on separate dessert plates or cup-cake liners and you could give them some bit of coating of the chocolate fountain, by scooping up from the bottom of the fountain with a ladle.
 Photo Courtesy: cakesandpastries, favim
How To Prepare Food For Chocolate Fountains