Football Party Recipe Ideas
21 Jun 2010
Planning to host a football party and looking for the best football party recipe ideas? You and your football crazy friends can definitely arrange a party and make it a big hit. With the World Cup fever spreading across nations, it is high time that you plan a nice football party and cheer your favorite team to win the World Cup. A giant TV screen with a good audio system is a must apart from all the lovely delicacies and beverages. All you need to do is plan in advance and arrange all the things required to host a football party.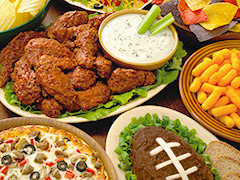 Football is loved and worshipped by millions across the globe and that's why these football parties have gained immense popularity everywhere. Foods served at the party should also be in accordance to the theme. If you are still in a fix or unsure, here are few tips or football party recipe ideas that will keep your guests satisfied for sure: 
Great Football Party Recipe Ideas:
a) Football Shaped Cake: A football shaped cake is a must for a football party. You won't have to serve any desserts if you are serving this mouthwatering cake. Make it all the more enticing by icing and decorating the cake with your favorite colors and flavors. You can also decorate the cake by making laces with white frosting on the football.
b) Meat Pizza: This is a healthy, tasty and filling football party recipe that can keep your friends and guests content. Making meat pizzas is simple and to save time you can arrange for readymade pizza crust and try to experiment by using various toppings including meat and poultry. Make them very tempting by getting a little creative with this recipe. Sausage pizza with pepper, onion and cheese topping can be a lovely option.
c) Football Party Chip Dip: This is a chip dip that will never bore your guests. It can be a great party-starter or icebreaker and if you have all the ingredients ready, you can serve it in quick time. Watching a football match on a big screen and munching these delicious chip dips can be fun even for the pickiest of eaters.
d) Easy Meatball Appetizers: You will always need new ideas while hosting a football party. Easy meatball appetizers can be very handy especially if you are left with very little time or if there are too many guests. This is one of the easiest appetizer recipes. Serve it and you will see it disappear in minutes! You can also spice up the meatballs by adding some hot pepper sauce and honey.
Football party recipes vary from country to country; however, it's all about one's preferences and tastes. The football party recipe ideas mentioned above can surely help you make your football party a memorable experience. So, what are you waiting for? It's time to impress your guests through your football party recipes and cooking skills!
Image Credits: http://family.go.com
Football Party Recipe Ideas