Belgian's Essential Eats
9 Jun 2010
Experience Belgium at its best, through Belgian's essential eats. Belgian cuisine combines everything that is good about the food in Northern Europe. The food is as distinguished as the French food, is influenced by Dutch  food and it is offered in portions alike the German food. The most iconic of all Belgian's essential eats are: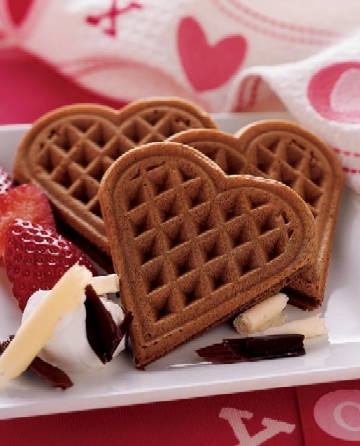 Waffles
Whether or not you like waffles, do have them while you are in Belgium. Many of the people don't know that Waffles are an entirely different breed of cake. Belgians eat waffles like a dessert and not in the form a breakfast dish. Two types of waffles are popularly available in Belgium, one of which is eaten with fork and knife and the another one is eaten like a cookie. Try both of them.
Beer
Beer is another Belgian specialty. Several varieties of beer are brewed only in Belgium and they are not made elsewhere. Trappist beer is one such example. Whether you want to take up a beer tour or feel like gulping down beer at a café, do not miss the beer drinking opportunities at Belgium. Enjoy your beer, which is a significant part of any Belgian culinary experience.
Moules Frites (Mussels with Fries)
Moules Frites is the national dish of Belgium. If you are visiting Belgium between September to February, you should not miss out on this comforting dish. Moules Frites are popular so much so that you will find them in all restaurants except a few fine dining restaurants as the dish is a part of a casual meal and it is somewhat messy too.
On the other hand if you visit the place when mussels are not in season, you may choose to have waterzooi or eel dipped in a green herb sauce.
Frites
Whether you choose to eat frites on a street stall or want to have them in a restaurant, Belgian fried potato is amazing. They are perfect – crunchy on the outer side and tender on the inner side. This texture is achieved after they are cooked twice. For an authentic experience, pair frites with mayonnaise dip but not ketchup.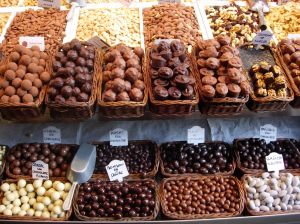 Chocolate

The praline originated in Brussels and the chances of trying them in Belgium are bright as there are over 2,000 chocolate shops out there. Indulge your sweet tooth while you set foot in some of the most amazing chocolate shops.  

Image credits : www.continentalmills.com and www.antwerp-tourist-guide.com
Belgian's Essential Eats