Veg Holiday Ideas Part 2



 "3-Sisters" the perfect trio for a Fall meal.

Planted -  Corn, Corn Field Beans and a variety of Winter Squashes along with a cover crop/"living mulch" of mustard in a mound/circle pattern. 
 The Three Sisters include corn, beans, and squash. As part of the circle of life, these New World crops rely upon each other for survival. According to Iroquois — who chant "you who sustain us" to the trio — the Three Sisters hold a spiritual, ceremonial, and celebratory place in the garden. Not only are the Three Sisters rich in mythological, cultural, and botanical history, they belong together nutritionally. Corn, beans, and squash complement each other: corn for grain and carbohydrate, beans for protein, and squash for vitamin A.
A fun thing to do with children is to plant the 3 sisters in a 4' diameter circle leaving an opening on one side unplanted of about 16".  You plant the corn and then the runner beans and squash around the corn.  Thy then vine upwards.  as the corn get taller pull it together at the top to form a TeePee for the kids!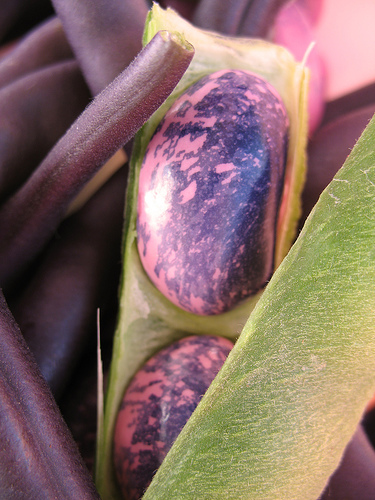 Scarlett runner Beans and Violetta Purple Beans
 I like to plant Scarlet Runner Beans as the bright red blossoms attract Humming birds, nd some small pumpkins like Baby Boo.  I usually grow either Gigantes the Greek Broad Beans which are voracious in growth or the Scarlet Runners or both.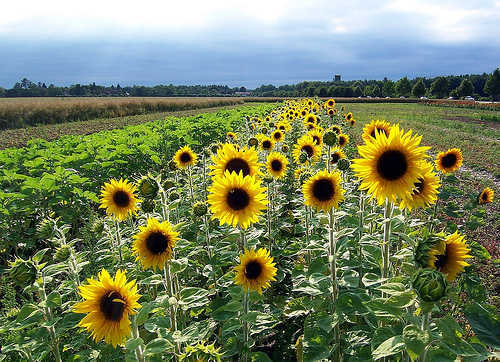 Sunflowers also can be intermittently planted if the diameter of the TeePee is enlarged or you plant in a large square for a Play House and the Sunflowers on planted on the 4 corners of this "house"
"THREE SISTERS" STEW
  6 servings
In Native American mythology, squash, corn, and beans are known as of the "three sisters." These are the very crops, along with garden vegetables, that the harvest festival of Thanksgiving is meant to celebrate!
1 small sugar pumpkin or 1 large butternut or carnival squash (about 2 pounds)
1 tablespoon olive oil
1 medium onion, chopped
2 cloves garlic, minced
1/2 medium green or red bell pepper, cut into short, narrow strips
14- to 16-ounce can diced tomatoes, with liquid
2 cups cooked or canned pinto beans
2 cups corn kernels (from 2 large or 3 medium ears)
1 cup homemade or canned vegetable stock, or water
1 or 2 small fresh hot chiles, seeded and minced
1 teaspoon each: ground cumin, dried oregano
Salt and freshly ground black pepper
3 to 4 tablespoons minced fresh cilantro
Preheat the oven to 400 degrees.
Cut the pumpkin or squash in half lengthwise and remove the seeds and fibers. Cover with aluminum foil and place the halves, cut side up, in a foil-lined shallow baking pan. Bake for 40 to 50 minutes, or until easily pierced with a knife but still firm (if using squash, prepare the same way). When cool enough to handle, scoop out the pulp, and cut into large dice. Set aside until needed.
Heat the oil in a soup pot. Add the onion and sauté over medium-low heat until translucent. Add the garlic and continue to sauté until the onion is golden.
Add the pumpkin and all the remaining ingredients except the last 2 and bring to a simmer. Simmer gently, covered, until all the vegetables are tender, about 20 to 25 minutes. Season to taste with salt and pepper.
If time allows, let the stew stand for 1 to 2 hours before serving, then heat through as needed. Just before serving, stir in the cilantro. The stew should be thick and very moist but not soupy; add additional stock or water if needed. Serve in shallow bowls.
Tunisian Bean and Chickpea Stew from  Classic Vegetarian Cooking from the Middle East and Africa by Habeeb Salloum. Can be cooked in a pressure cooker to presoak the beans and to speed up the cooking time.
Tunisian Bean and Chickpea Stew(my version)
1 cup dried cannellini, soaked overnight and drained*
1 cup chickpeas, soaked overnight and drained*
6 cups water
3 medium onions, chopped
6Â cloves garlic, minced
4 medium tomatoes, chopped, or one 15 ounce can diced tomatoes
2 cups raw kabocha cut into 1/2-inch cubes
2 Tabs harissa
1-2 tsp. smoked paprika (1/2 hot, 1/2 sweet)2 tabs chopped cilantro
salt and pepper to taste
parsley, for garnish (optional)
Place the drained beans and chickpeas into the pressure cooker with the water. Bring to high pressure and cook for 12 minutes. Allow pressure to come down naturally. (On the stove-top, cook until the beans are soft, adding more water as necessary. Allow about 2 hours for this.)
While the beans are cooking, spray a non-stick or well-seasoned frying pan, and sauté onions until they are beginning to brown. Stir in the garlic and tomatoes, and cook for another 10 minutes ( 5 minutes for canned tomatoes). Add the tomato mixture, pumpkin, harissa, and seasonings to the beans, and bring to a boil. Cover and cook over medium heat until pumpkin is very tender, about 30 minutes. Add more water if necessary. Serve sprinkled with parsley. Makes 8-10 servings.
The book says to serve this with rice, but we prefer it plain as a soup, with a little extra harissa stirred in and garnished with cilantro.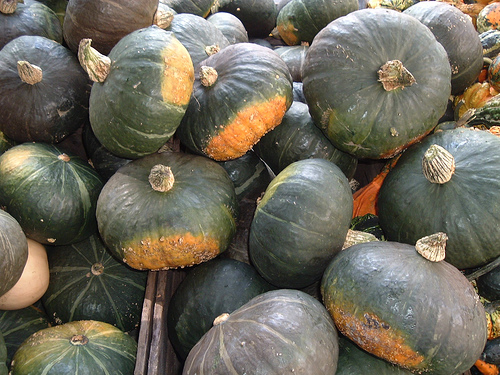 Kabocha Squash usually6" to 8" in diameter, very sweet  taste and smooth texture.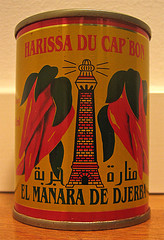 Harissa  Add to couscous, soups, pastas and other recipes. It can also be purchased in Middle Eastern stores in a can or tube.
For a very spicy harissa: use a blend of cayenne, chile de arbol, or cayenne with a milder chile like ancho chilies
For a medium spiciness: use a blend of New Mexico chilies with guajillo chilies.  Sometimes paprika and tomatoes are used in Harissa, but I prefer this version below.INGREDIENTS:
10-12 dried red chile peppers
3-4 cloves garlic, minced
1/2 teaspoon salt
2 tablespoons olive oil
1 teaspoon ground coriander
1 teaspoon ground caraway seeds
1/2 teaspoon cumin
MethodSoak the dried chilies in hot water for 30 minutes. Drain. Remove stems and seeds.
In a food processor combine chile peppers, garlic, salt and olive oil. Blend.
Add remaining spices and blend to form a smooth paste.
Store in airtight container and drizzle olive oil on top and it keeps for at least one month in the refrigerator.  So easy and gives great taste.  We use it as a condiment for couscous and tajins.
Acorn Squash are a very prolific garden plant! Accorn Squash with Cranberry Filling
2 Large acorn Squash (about 2 pounds each)
1 16 oz can whole cranberry sauce
1 tablespoon honey
1/4 teaspoon ground allspice
Prick squash several times with fork to allow steam to escape. Place in oven. Microwave on HIGH power until soft when pricked with a fork, 11 to 13 minutes, turning squash over and rotating after half the cooking time. Let stand for 5 minutes. Cut in half and remove seeds. Place cut side up in a 10 inch square casserole dish. Set aside. Combine cranberry sauce, honey and allspice in a small bowl. Microwave on HIGH power until hot and bubbly, 3 to 4 minutes, stirring after half the cooking time. Spoon into squash halves. Microwave on HIGH power 2 to 3 minutes or until heated through.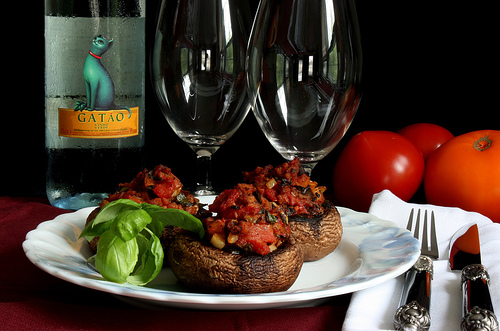 VEGETARIAN STUFFED MUSHROOMS24 med. size mushrooms
2 tbsp. olive oil
4 tbsp. grated onion
1/2 c. diced celery
1 tsp. dill weed
1/2 tsp. dried parsley
1/8 tsp. red pepper
8 oz. Gruyere cheese (1 c. grated)Mince mushroom stems. Heat oil in skillet and saute mushrooms with onions and celery over fairly high heat, stirring often. When vegetables are tender and moisture has evaporated, lower the heat, add herbs and cook a minute longer. Let mixture cool a bit, then stir in the cheese. Preheat oven to 450 degrees; grease a baking pan. Heap filling into mushroom caps and place in pan. Bake 10-15 minutes. Serve hot. May use Swiss cheese in place of Gruyere cheese. 24 servings.  Vegetarian Stuffed Mushroom 
   Directions
Wipe mushrooms with a damp cloth.
Break off the stems and trim off the ends.
Set caps aside.
Finely chop the stems.
In a heavy skillet, heat olive oil, green onions, and mushroom stems.
Saute for 3 minutes, stirring well.
Add bread crumbs, seitan, marjaram, garlic powder and salt and pepper.
Stir well and cook for 2 minutes.
Pack the filling in the cavities of the mushroom caps.
Brush a skillet lightly with oil and place the caps in the skillet, filled side up.
Brown the caps for a minute or two, reduce heat and add stock to the bottom of the skillet.
Cover and simmer for 20 minutes.
The caps can also be baked uncovered at 375° for 15-20 minutes.
 Prep Time: 15 minutesCook Time: 20 minutes Ingredients-  2 tablespoons olive oil -  2 green onions, finely chopped -  1/2 cup bread crumbs -  1/2 cup seitan -  1 teaspoon marjoram -  1/4 teaspoon garlic powder   salt and pepper to taste
Veg Holiday Ideas Part 2