from  Classic Vegetarian Cooking from the Middle East and Africa by Habeeb Salloum.
Can be cooked in a pressure cooker to presoak the beans and to speed up the cooking time.
Tunisian Bean and Chickpea Stew
(my version)
1 cup dried cannellini, soaked overnight and drained*
1 cup chickpeas, soaked overnight and drained*
6 cups water
3 medium onions, chopped
6Â cloves garlic, minced
4 medium tomatoes, chopped, or one 15 ounce can diced tomatoes
2 cups raw kabocha cut into 1/2-inch cubes
2 Tabs harissa
1-2 tsp. smoked paprika (1/2 hot, 1/2 sweet)
2 tabs chopped cilantro
salt and pepper to taste
parsley, for garnish (optional)
Place the drained beans and chickpeas into the pressure cooker with the water. Bring to high pressure and cook for 12 minutes. Allow pressure to come down naturally. (On the stove-top, cook until the beans are soft, adding more water as necessary. Allow about 2 hours for this.)
While the beans are cooking, spray a non-stick or well-seasoned frying pan, and sauté onions until they are beginning to brown. Stir in the garlic and tomatoes, and cook for another 10 minutes ( 5 minutes for canned tomatoes). Add the tomato mixture, pumpkin, harissa, and seasonings to the beans, and bring to a boil. Cover and cook over medium heat until pumpkin is very tender, about 30 minutes. Add more water if necessary. Serve sprinkled with parsley. Makes 8-10 servings.
The book says to serve this with rice, but we prefer it plain as a soup, with a little extra harissa stirred in and garnished with cilantro.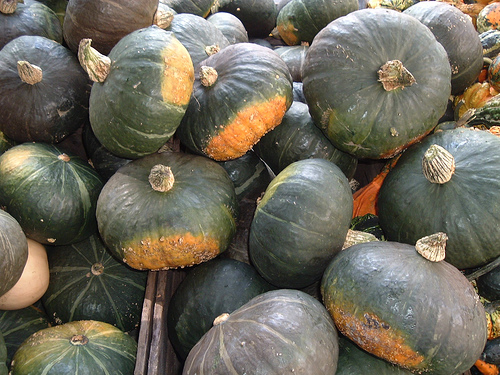 Kabocha Squash usually6" to 8" in diameter, very sweet  taste and smooth texture.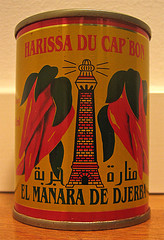 Harissa
 
Add to couscous, soups, pastas and other recipes. It can also be purchased in Middle Eastern stores in a can or tube.
For a very spicy harissa: use a blend of cayenne, chile de arbol, or cayenne with a milder chile like ancho chilies
For a medium spiciness: use a blend of New Mexico chilies with guajillo chilies.  Sometimes paprika and tomatoes are used in Harissa, but I prefer this version below.
INGREDIENTS:
10-12 dried red chile peppers
3-4 cloves garlic, minced
1/2 teaspoon salt
2 tablespoons olive oil
1 teaspoon ground coriander
1 teaspoon ground caraway seeds
1/2 teaspoon cumin
Method
Soak the dried chilies in hot water for 30 minutes. Drain. Remove stems and seeds.
In a food processor combine chile peppers, garlic, salt and olive oil. Blend.
Add remaining spices and blend to form a smooth paste.
Store in airtight container and drizzle olive oil on top and it keeps for at least one month in the refrigerator.  So easy and gives great taste.  We use it as a condiment for couscous and tajins.