10 great picnic food ideas
28 May 2010
What is a picnic without great food? Nothing, right? That is why we bring you 10 great picnic food ideas, which you can serve outdoors and watch your family and friends enjoy a delicious feast under the sky.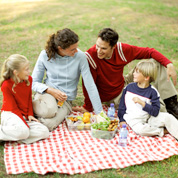 After you have decided upon where to go for picnic, the next big step is to select, prepare and pack the food. While we leave the packing to you, here are the 10 picnic food recipes so that you can make an informed choice and enjoy your picnic completely.
1. Salads: Everybody loves salads, whether it is adults or kids, because salads are non-fussy dishes and make for non-fussy eaters as well. The keep-it-simple philosophy behind salads makes them an ideal picnic food because you don't have to move mountains for the ingredients and you don't need to spend hours cooking them. Salads can be made for vegetarians as well as non-vegetarians. As for the ingredients, only sky and your own imagination is the limit. There are a number of salad recipes to choose from here.  
2. Dips and Veggies: Since everyone is talking about healthy eating these days, we thought, we should also include some such picnic food ideas in this list. Small vegetables like baby carrots, juliennes of red, yellow and green pepper, asparagus tips, celery, cherry tomatoes make for awesome choice with a healthy dip or two.
3. Cheese: Easy to pack into the picnic basket, cheese makes for another ideal picnic food idea. Pick from different varieties of cheese like cheddar and brie and pack in some grapes, dried figs, biscuits and apricots to make it a complete meal.
4. Shop-bought prawns: Shop-bought food means less mess and more taste. Prawns are delicious and can be served in a versatile manner. Pre-cooked prawns can be served with garlic mayonnaise and a lovely wine like Chardonnay. Prawns can also be breaded and pan-fried just before you leave for the picnic. Not much of a seafood fan? No problem. You can buy roasted chicken instead.
5. Watermelon with Vodka: This food idea is strictly meant for adults as it contains vodka in it. What you need to do is take a large watermelon, enough to serve all those who will be at the picnic. Cut a plug into the melon, preferably of the same diameter as the mouth of a vodka bottle. Core out about 2 inches of flesh from the hole. Take a wooden spoon and push it all the way down to the base of the watermelon. Now pour vodka into the plug, allowing the liquid to seep into the melon. Replace the plug and put it into a refrigerator. Next day, at the picnic, not everyone would be drinking from a glass!!!!
6. Smoked Salmon With Cheese: Fish is almost everybody's favorite and when you choose a healthy fish like salmon, there is little scope for dispute. Use slices of smoked salmon for this dish and fill them with cream cheese. Roll them up and cut into fingers of 2 inch length. Serve them cold and watch everyone relish the taste.
7. Potatoes in Horseradish Mayonnaise:  Potatoes are again everybody's favorite, especially the children love them. This dish is made with a kg of baby potatoes, which are boiled, drained and refreshed under cold water after which their skin is removed. Add to these mayonnaise and horseradish cream, as per taste. This dish is also served cold usually, so no need to worry about keeping things warm for the picnic.
8. No Picnic Food Is Complete Without Drinks: When we talk of picnic, how is it possible that we wouldn't give you some ideas about great picnic drinks.
a. Blend chunks of peaches, pears and lemon juice in a blender and pour into ice cube trays and freeze. Serve these cubes in chilled water as a picnic treat.
b. Regular lemonade can be served with a naughty twist by adding cranberry or raspberry juice.
c. Make your very own fruit spritzer by adding soda water to fruit juice and freezing it till it is slushy.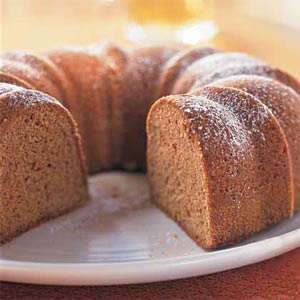 9. A Picnic Without Desserts Is Incomplete: How can you have a picnic and not serve any desserts? That is why we bring you a delicious dessert idea to serve at the picnic. You can bake a Lemon Poppy Seed Cake at home even a day before and serve it on the picnic day. All you need is an hour to prepare and bake the cake with ingredients like yellow cake mix, instant lemon pudding mix, eggs, water, vegetable oil, poppy seeds and lemon juice. Remember this is a bundt cake and can be served decorated with lemon slices too.
10. Snack-Time At Picnic: We know that picnic is all about food, food and more food. Therefore, we thought that while you are in the car, heading toward your picnic destination, what if you or the kids suddenly start feeling hungry. You should have some snacks ready for that, right? Make these granola chunks at home in less than an hour and stay free on the picnic day. You would need regular oats, coconut, coarsely chopped almonds, peanuts, sunflower nuts, sesame seeds and maple syrup.
Picnic is a time to have fun, so the less time you spend in the kitchen a day before, the more fun you are going to have at the picnic and whats more? You don't need to carry a plethora of serving bowls, plates, knives, forks with you. The dishes suggested above can be easily carried on a picnic and don't require much to eat with. So, take help from our 10 great picnic food ideas and plan your next picnic with a relaxed mind.
(Photo Courtesy: www.prairiegardens.org, www.babaz.ca, img.timeinc.net)
10 Great Picnic Food Ideas