Fourth of July Meal Ideas
9 May 2010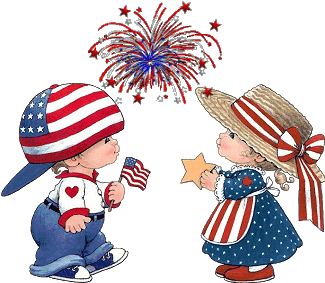 One of America's most favorite holidays is the Fourth of July, when every American on earth celebrates his or her country's Independence Day. The occasion calls for a lot of celebrations, which includes throwing parties and inviting family and friends over. Therefore, we understand your need for some choicest Fourth of July Meal ideas and that is what we bring for you this time. 
From the theme, colors and traditional recipes, to the dessert in colors red, white and blue, here are some typical Fourth of July Meal ideas for you to celebrate your Independence Day with:
First Course is always the most important part of a meal because it sets the tone for the rest of the meal to follow and also gets your guests talking, and we all know that a good conversation is the best way to get a party started. Therefore, you need to decide carefully as to how you can start the party. There has to be some imaginative way to do so and that can be only with some out-of-this-world finger foods that are something beyond the usual chip and dip. Four options that you can choose from are:
a. Sweet and sour meatballs

b. Caramel flavored popcorn

c. Nachos

d. Stuffed mushrooms
In case your Fourth of July party is going to be a large gathering, you can do better with the first course. You can divide your house into different zones and select each snack or starter to be served in separate areas, so that even while the people mingle around, they can have a taste of every snack.
Main Course is a very important part of a Fourth of July Meal so you will have to do the most preparation for this part. Decide upon the menu keeping in mind the nature of the gathering, which means dishes will have to be decided according to the individual preferences – for instance veg or non-veg, sweet or salty, fried or baked, dairy or vegan. Once you have decided on that, you can start planning your lunch or dinner accordingly.
One or two main dish would be enough to serve for a large gathering and dishes like the chicken or lamb crock pot can easily be cooked overnight, and then be re-heated just minutes before the lunch or dinner is served. In case you plan to serve kebabs as well, you can allow these to marinate overnight as well and cook these about hour or a half before the meal time. Among the side-dish, you can choose from: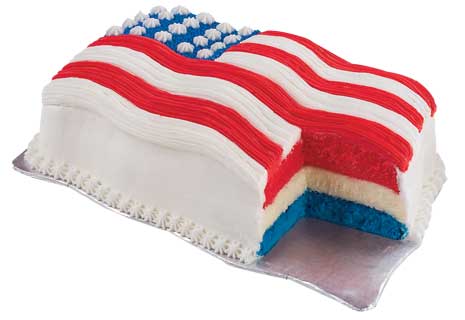 a. Corn on the cob           

b. Rice (plain or flavored)

c. Pasta salad
In  case you have both vegetarian and non-vegetarian guests at the Fourth of July Party, your meal ideas will have to be designed accordingly. Moreover, keep in mind that there are going to be kids too. So, you will have to prepare at least one dish specially for them.
Desserts are the favorite part of any meal planning and Fourth of July is no exception. The real finale for a Fourth of July meal could only be something rich, dark, moist and chocolaty, just like the 'Texas chocolate sheet cake', which is best served with caramel sauce-whipped cream topping with ice cream sprinkles and nuts on the side.
However, while all the guests have finished their lunch or dinner, you cannot serve them the main dessert. In this case, it would be wise to keep the finger desserts like cookies and cheese cupcakes running. This way, those who finish their food early can start nibbling for the sake of their sweet tooth while waiting for others to finish.
Drinks are an integral part of any party, therefore, you need to make sure that there are drinks and beverages to everyone's taste with an uninterrupted supply. Iced tea, Iced coffee, lemonade are the safest choices so keep these aplenty. To serve with the main course, you can choose between a nice Sangria or red wine, whichever would suit your menu. Since it is the summer season, it would do well to keep cool summer cocktails handy as well as a good collection of beers. But most important of all, how about some patriotic drinks like the 'Red, White and Blue Shooter' made up of layers of grenadine, peach schnapps and blue curacao!
Now that you've got some help planning your Fourth of July Meal, we would like to lessen your burden a little more by suggesting some menus to work upon for your Independence Day party along with the choice of dishes: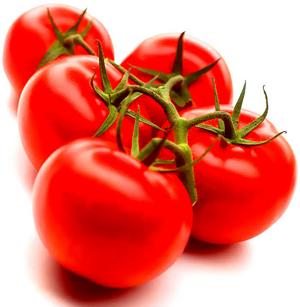 A. Traditional Menu:
Bacon stuffed cherry tomatoes

Lemonade

Basil-cheese Pull-apart breadsticks
Rib eye steaks with avocado salsa

Easy strawberry shortcake
B. Grilled Menu:
Pork and peach skewers

Grilled steak with herbs

Roasted red, white and blue potatoes
Fresh corn salad

Sherbet fruit pie
C. Make Ahead Menu:
Pesto Torte

Cherry chicken salad

Turkey salad with Raspberry Mint dressing
Potato salad  

Peanut parfait dessert
D. Red, White and Blue Menu:
Red, white and blue appetizers

Patriotic Fruit salad
Red, white and blue potato salad

Red, white and blue slaw

American flag cookie tart

Red, White and Blue trifle                                 
  (Photo Courtesy: google images)
Fourth Of July Meal Ideas