Top 10 Food And Drink Ideas For Bachelorette Party Fun

17 Apr 2010
This fun list is for those folks who realize that booze rarely goes bad and that being a good hostess means having your friend's favorites laid on the table. If you have a well stocked bar and great recipes on stock, this bachelorette party is going to amaze you!
DRINKS
Red Cicada
1 oz. Vodka
2 oz. Pomegranate Juice
Champagne
Combine Vodka and Juice in a shaker with ice, mix well. Strain into a cocktail glass and top with champagne. Garnish with blueberry stuffed red raspberry.
Kir Royale
In a champagne glass pour
1/2 oz. Creme de Casis
Fill with Champagne
Stir Gently
Bloody Brew
1 1/2 oz. Vodka
4 oz. Beer
4 oz. Tomato Juice
Dash Tabasco
Salt and Pepper
Pickle, Celery Spear or Green Bean and Lemon Wedge to Garnish
Massacre
2 oz. Tequila
1 tsp. Campari
4 oz. Ginger Ale
First start by filling a highball glass with ice. Add the tequila and Campari. Top with ginger ale and stir well.
Backseat Boogie #1
Ingredients:
3/4 oz Vodka

3/4 oz Gin

Fill 1/2 Ginger ale

Fill 1/2 Cranberry juice

Ice cubes
Irish Guy
1 oz. Baileys Irish Creme    
12 oz. Guinness Stout                                                                                                         
 Pour the Guinness into a pint glass and then drop in the shot of Baileys.Be sure to drink it very quickly.
Ugly
2 oz. Tomato Juice
6 oz. Beer
Combine in a Beer Mug.
Southern Bride
11/2 oz Gin
1oz Grapefruit juice
1dash juice from the maraschino cherry jar.
Bewitched
1/2 oz. Vodka

1/2 oz. B&B Liquor

1/2 oz. Cream
Combine ingredients in a mixing glass with ice. Stir gently and strain into a large shot glass or cordialglass.      
Dick Hard

1 oz Vodka

1 oz Gin

1 oz Rum

Fill with Sprite

Garnish with Lime and Grenadine

This is a very stiff drink. (good pun huh?)
FOOD: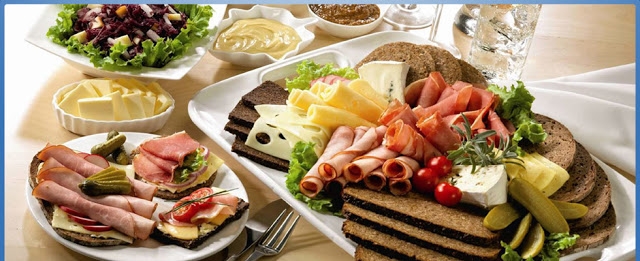 Crazy party
A couple loafs of bread shaped as a penis. Italian is good, white or dark rye. You could have bowls of veggies around the penis loafs and at the head could be the creamy dip in a funky dish.
Sandwich splendor
Take sandwiches that are cut with a rocketship-shaped cookie cutter and add soft sandwich fillings like egg salad, tuna, etc, for a quick yummy treat.
Pasta fancy
A pasta salad with penis shaped pasta mixed in with some regular small pasta, also do the little smokies by just heating them in a crockpot with barbeque sauce. You can also get mini meatballs and cook them the same way. Or here is the jelly recipe- (1 (12 oz.) bottle chili sauce, 1 (16 oz.) jar grape jelly.
Penis Cake
Get a penis cake pan that is over 1 foot long and fill it with one box of cake mix. Don't be intimidated... just follow the baking instruction on the cake mix, and make your own special penis cake.
Potato Salad
Cooked potatoes and a perfect complement of hard-cooked eggs, celery and onion topped up with a creamy dressing made with real mayonnaise.
Fruit Salad
Take a large bowl, add 1 (8 ounce) container of strawberry yogurt to 1 pint of fresh strawberries, 1 pound of seedless green grapes and 3 bananas. Toss it together and serve it immediately.
Apple Toast
1. 4 slices of bread, 1 tablespoon butter, 1 tablespoon cinnamon and a large apple(thinly sliced).
2.Set oven to broil. Spread butter on each slice of bread and place apple slices on buttered side of bread. Sprinkle cinnamon on top. Place the bread on a baking sheet.
3.Place in a preheated oven until toasted, about 2 minutes.
Nutty Crunch
1 packet peanuts
Sliced onions
Chopped chilly
1 lemon
Put it in a bowl, squeeze the lemon and mix it altogether with a pinch of salt for a tasty snack with your drinks.
Turkey Tic
12 (10 inch) flour tortillas
1 (8 ounce) package cream cheese
1 head lettuce
1 (6 ounce) package sliced deli-style turkey
2 cups shredded carrots
2 cups minced tomato
Spread the cream cheese evenly over the tortillas and top it with lettuce leaves. On top of it, arrange the turkey slices in even layers, sprinkle the carrots and tomato and roll the tortillas into wraps, for a tatsy bite.
Roasted Asparagus
2 pounds asparagus, trimmed
2 tablespoons olive oil
4 garlic cloves, thinly sliced
Coarse salt and ground pepper
Preheat oven to 400 degrees. On a large rimmed baking sheet, toss asparagus with oil and garlic; season with salt and pepper. Roast until tender and browned in spots, 15 to 18 minutes. Serve warm or at room temperature.
Other Articles You May Like To Read
 Cake Ideas For A Bachelorette Party
 Bachelorette Stars Bake Together On Their First Date
 Spider Man Girl Kirsten Dunst Treats Best Friend To A Bachelorette Party
Image Credit- alwaysperfectcatering, thisisitspa
Top 10 Food And Drink Ideas For Bachelorette Party Fun