The Distinctive Spanish Cuisine
15 Apr 2010
This blog is all about the distinctive Spanish Cuisine.
Food, in Spain, is a way of life. From restaurants to café and food vendors to food markets, Spain has it all in its inner cities. This is not all! Roadside restaurants occupy the regional highways of the place. The aroma of the freshness, unique regional dishes and the bounteous presence of quality seafood together makes the Spanish cuisine - special and tempting. Influence of the cooking and eating habits of the Arab and Moorish settlers lend distinctiveness to the Spanish cuisine.  Be it any Spanish food market that you set your foot in, a variety of distinctive produce will welcome you.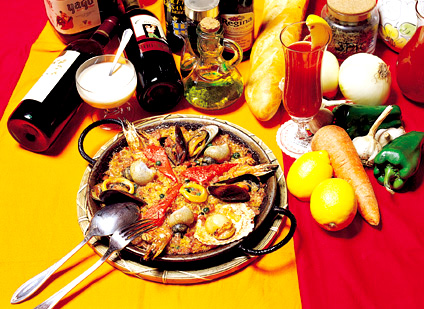 Here is a word of mouth for those planning Spanish Holidays ahead - people in Spain eat late. Therefore, most of the restaurants open up after 9 in the morning. So, plan your first meal of the day accordingly. Also, dont forge to make your table reservations because it is often a prerequisite at the finer eating places. For instance, if we take Madrid's cutest and highly suggested Casa Poco that serve the best steak and Iberica ham in the entire town is crowded during the lunch hours. So expecting to be seated without a reservation will not really work here.
If I was to name one dish from the Spanish cuisine, it would undoubtedly be Paella. It is a rice dish which is cooked with either pork, rabbit, seafood or chicken. Typically, a dish from the eastern Spain, it is available at all tourist areas which you are likely to visit. It tastes best when served fresh.
You must also try suquet that is a tomato stew of potatoes, wine, shellfish and fish. It is spiced with saffron and tastes delicious. Central Spain is well-known for its meals. You can try variations of the regional Spanish dishes here.
While you are in the Southern region of Spain, you will find out that the cooking style here is influenced by the Arabs who introduced ingredients like lemons, oranges and olives. Try out fritura de pescado which is a squid and fish dish flavored by lemon wedges while you are along the Costa del Sol. 
Coffee is the fuel for Spanish summer mornings and sangaria dominates the summer afternoons. Do not forget to sip fruit punch and red wine while you are there. Try varieties named Rioja and Valdepenas – foremost names in Spanish wine. So pack your bags to live through the very distinctive Spanish cuisine.
The Distinctive Spanish Cuisine