Lebanese Outback?
Lebanese Outback Burrito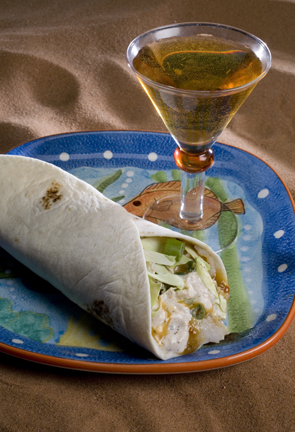 We cooked this during the 2000 Olympics in Sydney, and it has become a big family favorite. If I had to eat only one thing every day for the rest of my life, this would do. Feel free to use leftover grilled beef, lamb, sausage, chicken, goanna, crocodile, emu, goat or whatever you've got.1 1/2 pounds leftover grilled meat, sliced into thin strips1 onion, diced4 to 6 large flour tortillas, warmed1 cup hummus
1 cup shredded Jack cheese1 avocado, peeled, pitted and sliced
1/2 cup sour creamByron Bay Chilli Co. Red Cayenne Chile Sauce With Lime*In large skillet over medium heat, reheat the meat and cook the onion, together.Warm 1 tortilla and lay it on a plate. Top it with a dollop of hummus, several slices of meat, a sprinkling of onion and cheese, a few slices of avocado and a spoonful of sour cream. Drizzle the filling with a bit of Byron Bay Chile Co.. Close the bottom and roll up tightly.Yield: 4 to 6 ServingsHeat Scale: Mediumfrom my friend Dave DeWitt, chileHead www.fieryfoods.com* Now I find any favourite Hot Sauce works just fine.  I do like the lime squeeze.
Lebanese Outback?