Veg Holiday Ideas Part 1 (appetizers/first course)
Terrines and Mousseline are like my favourite "fancy" dish to make.  They do take time and technique but the outcome both in flavour, texture and presentation are so worth the time and effort. 
This is a typical yet simple French Terrine.
 


This is another style of terrine pan that comes apart leaving a lovely shapped terrine.
The following terrine is a fairly simple one as it begins with grilled vegetables.
Grilled Vegetable Terrine
. 
Ingredients:
Marinade:
2 tablespoons balsamic vinegar
2 tablespoons water
1 tablespoon chopped fresh basil or other fresh herbs
1 tablespoon virgin olive oil
1/2 teaspoon minced fresh garlic
1/2 teaspoon salt
1/4 teaspoon freshly ground pepper Terrine:
1 medium (1 pound total) eggplant, peeled
3 medium (1 pound total) zucchini
3 (1 pound total) yellow summer squash
3 medium (1 pound total) leeks
1 large red bell pepper
1 (6-ounce) can tomato paste with Italian seasoning
1/4 cup freshly grated Parmesan cheese
10 herb sprigs to garnish (basil, tarragon, rosemary, or parsley) Instructions:
Mix marinade ingredients in a small bowl. Cut eggplant, zucchini, and summer squash lengthwise into thin slices (1/4--1/2 inch thick). Wash leeks well, trim off stem end and tough greens, and slice lengthwise. Remove core from pepper, and cut pepper into several flat slices. Brush all vegetables with marinade. Grill vegetables over coals or using indoor grill until vegetables are tender and marked with grill marks. Peel skin from grilled red pepper. Preheat oven to 350 F. Prepare an 8 x 4 inch loaf pan with cooking spray. Layer grilled vegetables in pan, alternating vegetables. Spread some tomato paste and sprinkle some Parmesan cheese between layers. There should be three or four layers. Cover top with foil and press down firmly to compress vegetable terrine. Bake terrine 30-40 minutes. Allow to cool 10 minutes. Run knife around pan edges and turn terrine out of pan. If serving warm, slice carefully with serrated knife in 3/4 inch slices. If serving at room temperature, refrigerate terrine, then slice immediately before serving. Garnish each slice with herb sprig. Nutrition Facts:
Amount Per Serving: Calories 75
Fat 3 g, Cholesterol 2 mg,
Sodium 295 mg,  Quantity: 
Makes 4 Servings

Courtesy of The Art Of Cooking For The Diabetic
Garden Fresh Terrine (From: The Vegetable Bible by Christian Teubner)



Featured Cookbook

 ORDER/INFO

Vegetable Terrine
From: The Vegetable Bible by Christian Teubner
(
Serves 15 as an hors d'oeuvre
20 scallions, about 2
20 scallions, about
2 1/4 pounds pumpkin
30 green beans
25 small carrots
3 green kohlrabi
2 heads of broccoli
4 leeks
For the mushroom cream:
1 1/2 pounds white mushrooms, finely chopped
1/2 cup butter
1 shallot, finely chopped
1/2 clove garlic, crushed
1 sprig each thyme and rosemary
1/2 bay leaf
salt, freshly ground black pepper
1/2 cup white wine
3 cups heavy cream
1 1/4 cups milk
1 envelope unflavored gelatin
Trim the scallions, beans, and broccoli. Peel and seed the pumpkin and slice the flesh. Peel the carrots. Halve the leeks. Peel and slice the kohlrabi.
Cook all the vegetables separately in lightly salted boiling water until just tender. Drain and rinse in cold water.
Saute the mushrooms in butter, together with the shallot. Add the garlic, herbs, and seasoning.
Add the white wine and reduce by half.
Add the cream and milk and simmer until the mushrooms are tender.
Strain into a clean pan, reserving the mushrooms. Return the cream and milk mixture to the heat, and reduce to 3 cups.
Add the reserved mushrooms and puree with a hand blender until foamy.
Dissolve the gelatin in 1/2 cup cold water. Add the gelatin in a continuous stream to the mushroom cream, stirring. Cool slightly, then follow the step by step instructions.
Vegetable Terrine:
Line a terrine with plastic wrap and cover with blanched leak leaves.
Layer the vegetables to produce a decorative cross section when sliced, alternating with the mushroom cream.
Fold the overlapping leek leaves over one another at the top.
Chill for at least 2 hours, then turn out and cut into 15 slices.
Serve the vegetable terrine on a pool of cold tomato sauce, decorated with a spiral of unsweetened yogurt.
Recipe: Green terrine with cashew cheese

From  Chef Shigefumi Tachibe of Chaya Brasserie whose imaginative fusion of Japanese and French is a rare talent.  I first at his LA area restaurant about 20+ years ago.  This was my first glance at true East-West Fusion.  It is a meal I will never forget as it was an awakening to me.  I had yet to travel to China, India, Thailand etc.  I loved sian cuisines and often cooked them as well as French but the fusion of flavours and the artistic plating were shocking-simply amazing at that time.
Total time: 1 hour, 15 minutes plus overnight chilling time
Servings: 6 (2 slices per serving)
Note: From owner-chef Shigefumi Tachibe of Chaya Brasserie. Use a mandoline to thinly slice the zucchini, artichoke hearts and fennel.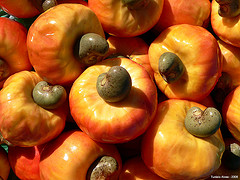 Fresh cashew fruits
Cashew Cheese
1 1/2 cups raw cashews
1 tablespoon roasted garlic (6 garlic cloves, smashed)
1/2 cup soy milk
1/2 teaspoon salt
1/4 teaspoon freshly ground black
pepper
1. Cook the cashews in a small saucepan of boiling water until soft, about 5 minutes. Drain.
2. Blend the cashews, garlic, soy milk, salt and pepper in a food processor until soft and creamy. Cool.
Tomato coulis
2 ripe tomatoes, peeled and seeded
1/2 small red bell pepper, seeded and chopped
3/4 cup extra virgin olive oil
1 teaspoon sherry vinegar
1 teaspoon salt1/4 teaspoon freshly ground pepper
1. Combine the tomatoes, red pepper, olive oil, vinegar, salt and pepper in a food processor to make a thick sauce.Terrine
15 medium asparagus spears
3 zucchini, ends trimmed
2 fresh artichoke hearts
1 fennel bulb, trimmed
4 leeks, root ends trimmed
Cashew cheese
Tomato coulis
1. Bring a large pot of salted water to a boil. Cut the asparagus to fit the length of the bottom of the terrine. Blanch until tender and set aside to cool. Thinly slice the zucchini lengthwise. Blanch for 1 minute; set aside.
2. Thinly slice the artichoke hearts and fennel; blanch separately and set aside. Trim off and discard the dark green part of the leeks but leave them whole. Blanch the white part until tender; cool. Thinly slice the leeks lengthwise and set aside.
3. Use a terrine or mold measuring 9 1/4 by 4 by 2 3/4 inches to layer the vegetables. Lay the zucchini slices one by one across the bottom, slightly overlapping, and up the sides of the mold so the slices hang over the edge of the mold and can be folded over the top of the terrine when you are done layering.
4. Next, make a thin layer using half the leek slices. Spread a layer of cashew cheese over the leeks, then add half the asparagus spears, packing them in tightly side by side. Depending on the size of the asparagus, you will need 5 to 7 per layer. Spread cashew cheese evenly over the asparagus.
5. Follow with a layer of fennel slices, then artichoke hearts and then layers of cashew cheese, asparagus, cashew cheese and the remaining leeks. You may have a few asparagus spears left over. Fold the zucchini slices over the top of the terrine and cover with plastic wrap. Refrigerate overnight.
6. To serve, carefully unmold the terrine and turn it onto a serving platter. Dampen a very sharp knife and cut the terrine into three-fourth-inch slices. Drizzle each serving with tomato coulis.   
Veg Holiday Ideas Part 1 (appetizers/first Course)