Herbs and Spices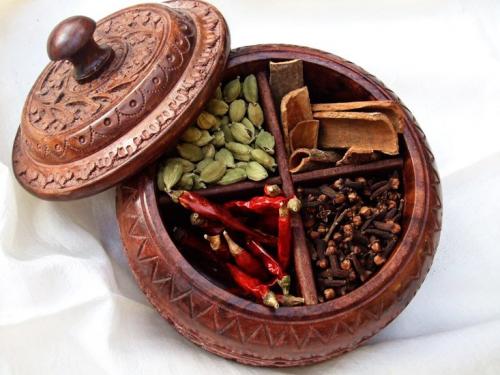 Including spices in your meal transforms it. Herbs from around the world are readily available.
Here is what I think is a must for every cook.
Spices
Cardomom The pods are used whole to flavor rice. The seeds are crushed and used to flavor Indian desserts. You can make flavorful tea too. Chew it as a mouth freshner.
Chilli powder Its hot, its spicy, its the single most thing to add for flavor and color. The powder is made from dried seeds of chillies. In Indian cooking whole chillies are often used. Both the red and the green variety.
Cinnamon Use either whole or as a powder. Don't eat the stick though.
Cloves It is usually used in spice mixtures both for sweet and savory dishes.
Coriander seeds the plant seeds are dried and roasted. Mostly the seeds are powdered before using.
Cumin They are dark brown seeds. Available mostly whole. Used for curries. Can be grinded.
Fennel Light green seed. Very frsh tasting. Used as a mouth freshner.
Fenugreek Slightly bitter so don't use too much.Seeds are often used whole. Used in curries and fish dishes.
Ginger The root has a sharp, refreshing flavor. If using fresh, peel before use. The ground variety is good too.But somehow I always end up using the fresh. Try it in tea. Crush it for ample flavor.
Mustard  The seeds are used to flavor vegetabpes and pulses. They have a nutty flavor.
Nutmeg can be used whole or ground. Has a sweet and nutty flavor.
Peppercorns Used in all savory cooking. It enhances other flavors.
Safforn it is an expensive spice. Used for color and aroma. Used mainly for rice and desserts. Some curries get a rich flavor by its addition.
Turmeric Primarily used for coloring. It is a bright yellow powder. Indian cooking does not happen without it.
Herbs
Basil has a spicy aroma. Has great affinity for tomatoes.
Bay leaves one of the oldest herbs used for cooking. Often the dried variety is used. The fresh ones have a sweet flavor.
Chives very delicate oniony flavor.
Cilantro or coriander leaves very intense herb.Leaves are used for garnishing.
Dill pungent, sweet tasting herb.
Marjoram similar to oregano, although milder.
Mint distinctive smelling herb. Very versatile. Used for both sweet and savory dish.
Oregano very aromatic and flavorful. Used a lot in Italian cuisine.
Parsley have slighlty bitter flavor.
Rosemary dark, needle like leaves have a very intense flavor. Use sparingly.
Sage aromatic oils impart a distinct and powerful flavor.
Tarragon sweet, aniseed flavor.
Image Credit: ifood.tv
Thyme robust aromatic herb with a warm, earthy flavor.
Herbs And Spices