Tips for Making Green Tea
The health benefits of switching to green tea have been lauded for a long time. But the benefits of green tea can only be obtained if you make green tea properly. An original, truly refreshing cup of green tea made from high quality green tea leaves is what we are talking about. Here are a few tips about making green tea from scratch: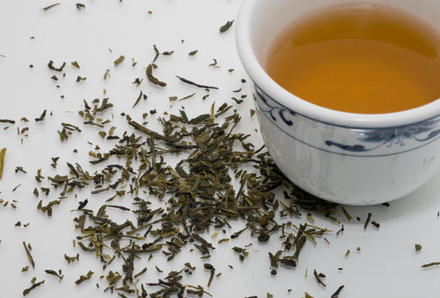 Choosing Green Tea Leaves

 
First of all throw out your Green tea bags and Green tea balls. Go to your nearest grocery store and get packaged green tea leaves. Better yet, go to a Chinese grocery store and get loose and fresh green tea leaves.
Green Tea leaves have a shorter shelf life, so make sure that the packaged green tea leaves you buy have not been on the shelf for more than 6 months
Try to buy green tea leaves that are from the first harvest. The quality of the green tea leaves declines with each successive harvest.
If you are purchasing packaged green tea leaves, buy those that have oxygen free packaging.
There are many high quality green tea leaves that you can choose. I prefer  Sencha Green Tea which is a classic and economical green tea  or the aromatic Kabusecha Green Tea which is known as the best green tea as it is taken from the first harvest.

Making Green tea
For making a single cup of Green Tea you have to brew only a single teaspoon or 5 ml of green tea leaves.
Choose a green tea teapot or any well designed stout teapot that allows the tea to expand when being made.
Fill the green tea teapot with one cup water, and heat it to 80 C. DONOT boil the water.
Place the green tea leaves in an empty mug and then pour the water over it.
Steep the green tea leaves for a maximum of  2 ½ minutes. For certain green tea varieties you might have to steep for a longer time. It also depends on how strong you like it. The longer you steep the green tea the more bitter it will be.
Making Flavored Green Tea
You can experiment with your green tea flavors to suit your taste. Some of the most common ingredients that are added to make better and flavored green tea are honey, lemon juice, spearmint, or sliced ginger. Some even add gin and tonic or other fruit juice concentrates to the green tea. For Iced Green Tea, simply add some ice cubes.
I love my Ginger ice green tea especially because of the wonderful flavor of lemon and ginger. Some of the green tea drinks that you can make are Green Tea Soda, Ginger Green Tea toddy, or the Srinagar Green Tea.


Enjoy making your green tea with these tips. Happy green tea brewing!
Image Credits
www.ifood.tv
www.itechtalk.com
www.epicself.com
Tips For Making Green Tea