Top 5 Spices Of Bangladesh
30 Dec 2011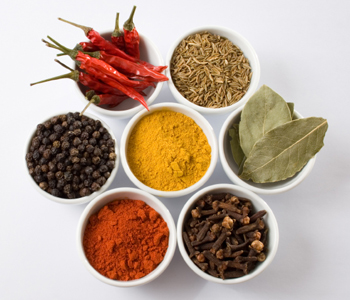 Being close to India and Pakistan, Bangladeshi cuisine shows an impact of the cuisines of these two countries. However, despite that, Bangladeshi food has its own soul, which ranges between very "spicy" and extremely "sweet." This difference is created with the help of the top spices of Bangladesh, which are:
1) Radhuni (Trachyspermum roxburghianum)
Confused with celery seeds sometimes, these small dried fruits make up a strong spice, a few pinches of which are enough to lend a characteristic smell to a curry. Apart from this, radhuni seeds are also used in pickles and spice mixtures like panch phoron, a typical mixtures used in Bengali cuisine.
2) Mustard
Favored for its pungent flavor and strong smell, mustard seeds and mustard paste is used to prepare most of the fish curries in Bangladesh, as well as meat curries too.

 
3) Kalo Jeera (Black Cumin)
Used mainly for seasoning of curries, this spice is integral to Bangladeshi cuisine. It is used with vegetables as well as in making of biryani.
4) Panch Phoron (Bengali spice mixture)
Made with fenugreek, nigella seeds, cumin seeds, radhuni, and fennel seeds, this five-spice mixture is used in vegetables, meat and fish curries, and lentils.
5) Other Spices
Apart from the above, there are some common spices used in Bangladeshi cooking, which are garlic, ginger, and turmeric.
In case you are tempted to recreate a Bangladeshi meal in your kitchen, get your hands on these top spices without delay.
Image Courtesy: britishimperialism.files.wordpress.com
Top 5 Spices Of Bangladesh