Top 12 Spices Of Turkey
8 Dec 2011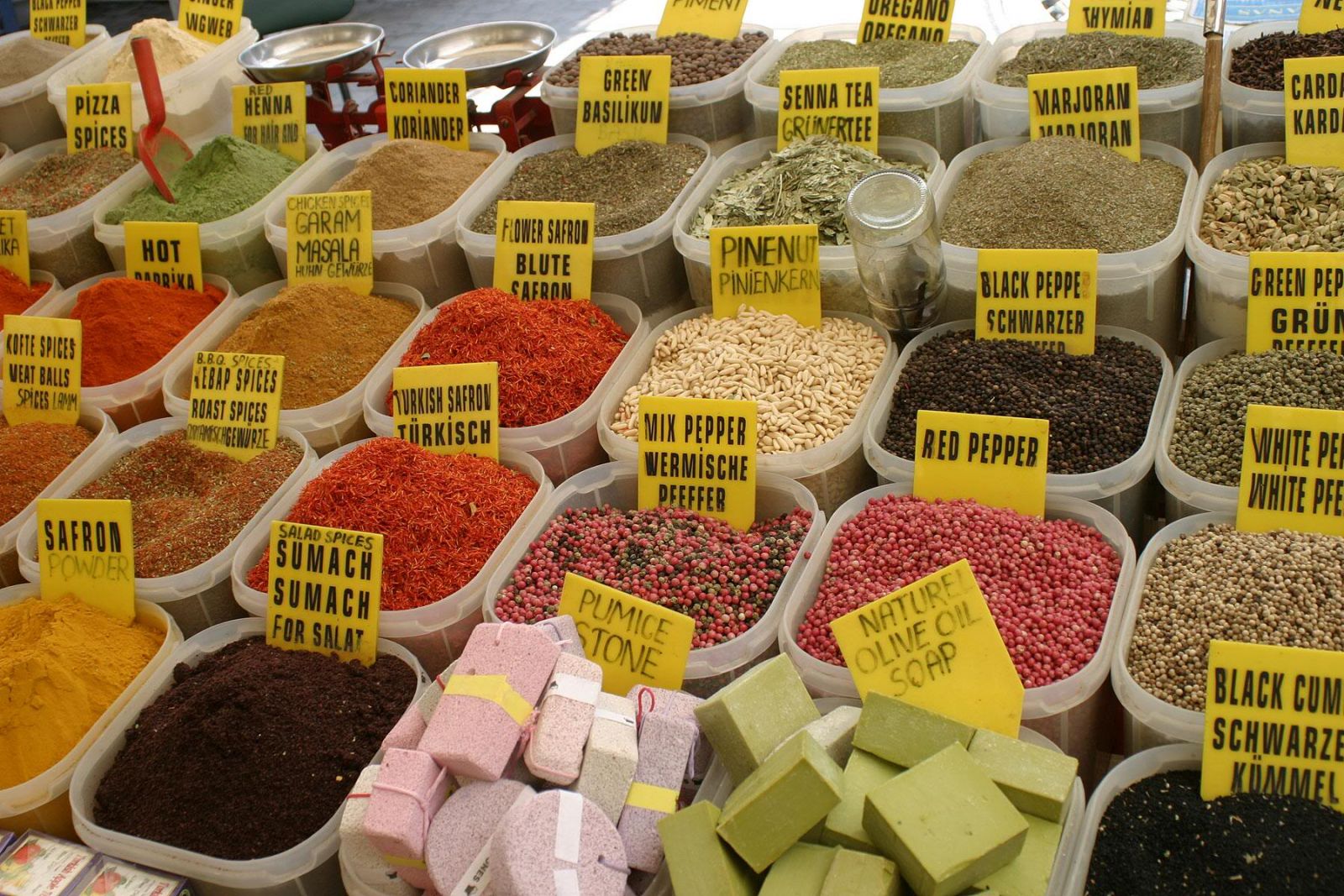 The Spices of Turkey are an eclectic mix of herbs and spices, which have been in use since ancient times. Be it a wild flower, a fruit, a bark of a tree or its leaves, the Turkish cuisine shows affinity for a variety of spices, which the Turkish cooks use heavily in daily cooking as well as on special occasions.
1. Yenibahar (Allspice)
This spice finds it way into preparation of meat dishes, dumplings, sausages, and sweets. It is basically the dried ripe fruit of the plant Pimento officinalis and is popularly used to enhance low appetite.
2. Anason (Anise)
This fragrant spice is in the form of seeds and is mainly used in baking under Turkish cuisine. The spice also finds it use in helping children sleep soundly.
3. Roka (Arugula)
These herb leaves resemble those of the radish plant closely. Often used in salad, these leaves are also served with fried or grilled fish as well as for garnishing purpose.
4. Frenk Fesleğeni (Basil)
One of the most popular spices of Turkey, this tropical plant is highly recommended to be used in preparation of dishes with eggplant and pepper.
5. Defne (Bay Leaf)
As you already know, these leaves can transform any dish from banal to amazing in a jiffy. That is why, perhaps, the Turkish cooks swear by it to spice up their fish, meat, and game dishes as well as kebabs and pickles.
6. Karabiber (Black Pepper)
This spice lends heat and fragrance to the Turkish foods and is used in almost all the dishes.
7. Kakule (Cardamom) & Tarçın (Cardamom)
This spice is used extensively in dishes both salty and savory. The small-white pod produces delicious fragrance in the food while also enhancing the appetite as well as relieving stomach aches.
This spice, used in the form of an aromatic bark, is used in whole or powdered form. It is usually added to the meat dishes while also being sprinkled upon baked items and added to Turkish drinks such as boza and salep.
8. Karanfil (Cloves)
Compotes, syrups, cakes, ice-creams, and stews, you can use this spice in almost everything. The dark colored flower buds, used after being dried, add a whole new flavor to the Turkish dishes.
9. Tere (Cress)
These leaves, though, mostly used in salads, are also held up in esteem for being unique in taste. The Turkish cooks use these leaves also to garnish their dishes.
10. Kişniş (Coriander)
Used in its powdered form mostly, this spice is a good addition to meat dishes, kebabs and in making of "Sucuk." The best part of using this spice is that it eliminates the smell of uncooked meat from your dish.
11. Frenk Maydonozu (Curly Parsley)
Known for its light aroma, this parsley is a local variety and because of its curly leaves, it is mostly used to garnish various Turkish dishes.
12. Mercanköşk (Marjoram)
Similar to wild thyme in its appearance, this herb is used in salads as well as dishes of different varieties. Added when the cooking process is almost complete, this herb aids digestion.
The Turkish spices are a delightful way of introducing yourself to not only the  cuisine but to the Turkish way of life.
Image Courtesy: turkishwineforum.com 
Top 12 Spices Of Turkey