Star Anise Substitutes

25 Jul 2011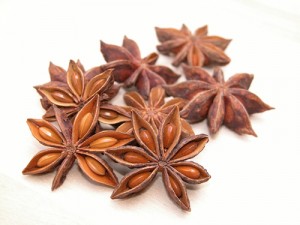 Start anise is a popular spice that has a distinct flavor and aroma; it generally goes well with Chinese and Vietnamese dishes. If you are attempting any of these cuisines in your kitchen and do not have star anise in your kitchen cabinet, do not worry as there are quite a few Star anise Substitutes that you can easily use without altering the flavor of the dish. Read on.
Easy Star Anise Substitutes
1 Chinese Five Spice Powder: This is a mixture of five essential Chinese spices and also has ground star anise as one of the constituents. You can easily add some Chinese five-spice powder to replace the star anise without making much of an alteration in the taste.
2 Aniseed: This spice has somewhat similar but milder flavor to that of star anise and hence can prove to be a very effective substitute for the spice. Since the flavor is quite similar, aniseed goes well with most of the dishes like star anise.
3 Fennel Seeds: Star anise is known for its licorice like flavor which is also a characteristic of fennel seeds. You can replace star anise with fennel seeds and the results will be satisfactory.
4 Caraway Seeds: These too are a fair substitute for star anise. You can also choose to combine caraway seeds with tarragon to attain more star anise like flavor in the dish.
5 Cloves: Since star anise is used in a lot of preserves and jams for that added flavor, it can easily be replaced with whole cloves for these preparations.
Apart from these 5 substitutes, you can also try using licorice when out of star anise. Substituting an ingredient in a recipe is all about experimenting and experience. Do try out different spices or spice combinations….you might discover a better tasting dish with a substitute.
Image Courtesy:foodie-isms.com
Star Anise Substitutes