Turmeric Substitutes

10 Jul 2011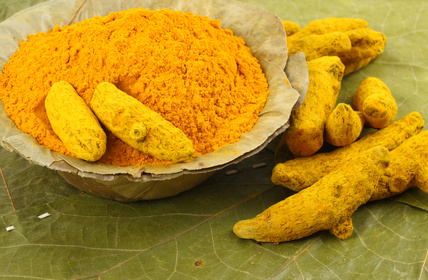 Once known as the Indian saffron in medieval Europe, Turmeric has created its own distinct space in the culinary world. Mostly used to impart color to the food, turmeric holds a lot of medicinal and nutritional value also. But what happens when you run out of the spice while preparing your favorite recipe?? Read on to know some simple, turmeric substitutes that are handy and won't let you miss the real thing.
Easy Turmeric Substitutes
1 Mustard: One of the most popular substitutes, mustard can easily be a replacement for turmeric. The spice is available in spicy, sweet, or mild variant can be used when you've run out of turmeric. Though, the taste would not be the same as turmeric, however, mustard can be used to impart the color.
2 Saffron: Though, an exotic spice saffron is a good replacement for turmeric. If you are out of the spice, you can add in a little saffron to get the color. The flavor however, will not be identical as turmeric.
3 Annatto: The seed of achiote tree is often used to add color to the food. Seep the seed in a little water, discard the seed and use the liquid to add color to your dishes.
4 Marigold: Light on flavor and high on color, dried marigold petals can be powdered and used as a replacement for turmeric in many dishes.
5 Turmeric Oil: powdered or whole turmeric can also be substituted with turmeric oil. It would provide exactly the same flavor and should be used in less quantity if it is concentrated.
So now you do not have to rush to the grocery shop in the middle of cooking if you do ot have turmeric with you. Try these simple turmeric substitutes and you'll be all set. However, all these ingredients have a different flavor and you may have to experiment a bit to get that perfect combination. Happy Cooking!!
Image Courtesy: dietivity.com
Turmeric Substitutes