Radish Garnish-How To Tips & Ideas
7 Jul 2011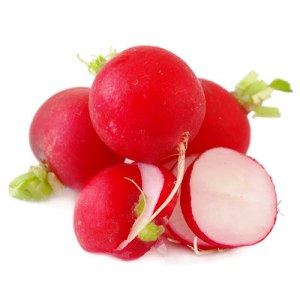 Many of the radish garnish ideas are simple and easy to prepare at home. However, to the expert chefs, radish is the ideal ingredient for preparing intricate garnishes. Here are some useful tips for the beginners to start with their garnishing projects using radish.
Essential Tools for Preparing Radish Garnish
A small and sharp paring knife is most essential for preparing thinly cut radish garnishes.
You can also use vegetable peeler to take off the skin from the radishes and prepare thin shreds of radish.
If you wish to use grated radish, you can use a normal grater.
Toothpicks can be required to secure the radish flower on the salad, if desired.
Simple Ideas on Radish Garnish
Radish Slices
To prepare the slices, first you should discard both ends of the radish. Place the radish horizontally on cutting board and make thin slices crosswise with a sharp paring knife. You can also use a sharp vegetable slicer, to make the slices super thin.
Use the radish slices to garnish salads, sandwiches, crostini etc.
Use a sharp paring knife to cut off the sides and place the radish on one of the cut ends. Cut the radish vertically in each side without cutting through the base. If you want, you can make several series of cut inside the first cut by leaving a small central portion intact. Now place the radish in a bowl of ice water until the cut slices opens up to look like petals of rose. Remove from water and pat dry with a paper towel before using as garnish.
Place the rose on its base over salad or any other savory preparation. You can also secure the rose by inserting a toothpick at the base.
Radish Strips
For preparing radish strips, you should first make thin slices out of the radish. Now take 5-6 thin slices to place one another and cut thin strips out of these slices. Try to make the strips as thin as you can. You can also use a wide sized grater or shredder, to prepare shredded radish.
This is a common garnish for several Thai, Japanese and Chinese preparations. You can also sprinkle the strips on a bowl of greens or a bowl of soup.
Tips on Radish Garnish
For preparing the radish garnish, select small and round shaped radishes for easy handling.
Wash and clean the radish thoroughly, before you use these for garnishing.
Store the radish garnish in an airtight bag or container for later use.
For garnishing the salad, always use freshly cut radish garnish for best result.
To reduce the strong flavor of radish, you can plunge these in cold water for 15 minutes before putting on the food.
Now you know about how to prepare radish garnish and how to use these for garnishing. Therefore, gear up for the task of garnishing with these easy radish garnish ideas.
Image Credit: chubeza.com, two-tarts.com, cathiefilian.blogspot.com, italianhandful.wordpress.com
Radish Garnish-How To Tips & Ideas