Cucumber Garnish-How To Tips & Ideas
6 Jul 2011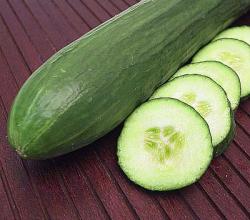 Simple cucumber garnish can convert your salad look gorgeous. There are several interesting cucumber garnish ideas including simple and intricate ones. Garnishing with cucumber opens up a world of challenge, even to the experienced chefs. Here is a brief discussion on various cucumber garnish ideas, which you might try by yourself.
Tools Required for Preparing Cucumber Garnish
To prepare nice and neat looking cucumber garnishes, you will require a sharp paring knife. Additionally vegetable peeler can be useful to peel off the cucumber skin properly. Make use of toothpicks or stirrer to prick the cucumber garnish and place over the food or drink.
Various Cucumber Garnish Ideas
Cucumber Slices
Use a sharp knife to cut the cucumber crosswise in thin slices. You can keep the peel or take off with the help of vegetable peeler.
The cucumber slice garnish is most common for salad. You can also garnish certain cocktails with cucumber slices.
Cucumber Ribbons
Cut both the ends of the cucumber and then thinly slice lengthwise to prepare the cucumber ribbons. Elongated vegetable peeler can also be used for cutting out thin ribbons.
Dip the ribbons in cocktails or place over the food preparation in nice pattern.
Cucumber Fan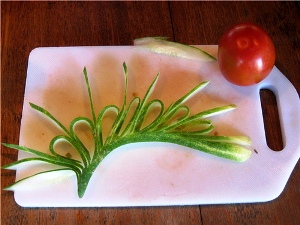 Place the cucumber horizontally on the cutting board after discarding the ends. With a sharp knife, make thin diagonal slices on the cucumber by keeping the bottom part intact. Curl each alternate slice in inward direction to prepare the fan.
Place the fan over the salads or rice preparations.
Tips on Cucumber Garnish
Always clean the cucumber by washing and drying, before preparing the garnish.
Taste the cucumber before using, as certain cucumbers have a bitter tang.
You can dip the cucumber garnish in light vinegar, for using later. It will also enhance the taste and maintain the freshness.
Keep the cucumber garnish in a safe distance from heat or air to avoid drying out.
Do not store the cucumber garnish inside refrigerator, as it will destroy the freshness.
Follow these easy tips on cucumber garnish to enjoy hands on experience in this task. You can turn to be an expert in cucumber garnishing with adequate practice.
Image Credit: ifood.tv, firstlookthencook.wordpress.com, sbs.com.au,  pdxknitterati.com
Cucumber Garnish-How To Tips & Ideas