Types of Steaks:

Choosing the correct cut of meat is very important when grilling. Some of the best steaks for grilling are the premium cuts. Thickness of the steak is very important. Each cut should be between 1 inch and 1 ½ inches thick. The strip steaks and top sirloin should be a little less expensive than the filet mignon, t-bone, porterhouse, and rib eye. 


Filet Mignon or Tenderloin - The filet mignon is a stylish cut taken from the heart of the beef tenderloin that has outstanding taste as well as texture. They're the most tender steaks you can buy, though not the most flavorful. 

Filet Fraud - Don't be fooled!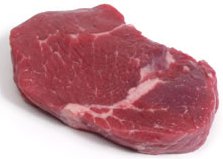 Also known as mock tender steak, fish steak, chuck fillet steak, chuck tender steak, shoulder petit tender.
Some less-than-honorable butchers and restaurants serve and sell cheaper cuts of meat that they masquerade as expensive filet mignon.
Real filet has a very fine grain and a buttery texture with no connective tissue. The chuck tender has more marbling and noticeable connective tissues. In other words, it is tougher.
 
New York Strip - The New York strip is such an excellent cut for grilling, many grilling experts refer to it as the "ultimate" steak for cooking out.

Porterhouse - The Porterhouse is a very large steak that is actually a combination of two steaks: the New York strip on one side and a tender filet on the other. Many believe these to be the best of all steaks.

Rib Eye - Another classic cut, the rib eye has marbling throughout the meat - making it one of the juiciest cuts as well as very tender.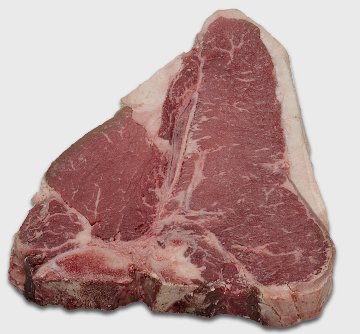 T-Bone - Named for its distinguishing T-shaped bone, this choice cut is almost identical to a Porterhouse steak, only it doesn't have as much of the tenderloin muscle in it. The T-bone steak is a succulent cut that is a favorite of steak fans. It is both a strip sirloin (with the bone) and a tender filet mignon.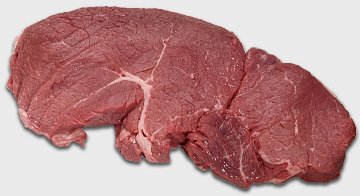 Top Sirloin - The sirloin is near the rump, so the meat's a bit tougher than cuts from the loin or the rib. The top sirloin is a juicy cut taken from the center of the sirloin - the tenderest part - and a great cut for grilling.