Top 10 Recipes With Sweet Potatoes

26 Apr 2011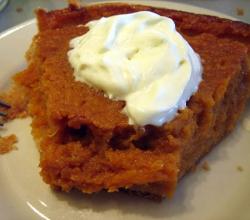 Relish the goodness of sweet potatoes with these top 10 recipes with sweet potatoes from ifood. You can prepare a variety of dishes including soups, salads, side dishes and desserts with this tuber. Read on to know more about the exclusive collection of top 10 recipes with sweet potatoes.
Delectable Top 10 Recipes With Sweet Potatoes
Fluffy Mashed Sweet Potatoes
A creamy dish, this looks very similar to your delicious mashed potatoes. The sole difference is the sweetness of this dish which it takes from ginger spikes and honey. These mashed sweet potatoes are loved by kids and adults alike.
The blend of butter, pancake syrup and pre-sweetened cereal with sweet potato makes this dish a truly delectable one. Serve as a dessert if you want some appreciation from your family and friends.
Forget that you are dieting and on low calorie diet. Relish on these deep fried sweet potatoes and satiate your cravings for some really lip smacking munchies.
Your guests will love to indulge themselves in this sticky-sweet casserole. This tart can form an excellent side dish for your autumn party.
Baked Sweet Potatoes With Yogurt Sauce
Make the baked sweet potatoes healthier with yogurt sauce. This brings in a Middle Eastern touch to your sweet potato and the benefit – zero calories are added. So, why don't you allow yourself to treat yourself with this delicacy?
Give your sweet potatoes an Asian cuisine touch with roasted garlic and rosemary. Add olive oil as a healthy ingredient to this marvelously simple delectable dish.
Serve this salad along with radishes, pine nuts, crispy romaine lettuce, crumbled feta and tomatoes. Enhance the flavor of this royal side dish with candied almonds and macadamia nuts.
A delicious alternative to pumpkin pie, this mouthwatering sweet potato pie is a true healthy dessert. Eggs, milk, cinnamon, cloves, brown sugar and nutmeg enrich the aroma and flavor of this magnificent dessert.
A healthy and tasty snack, choose these over the refine flour and fat rich sweet buns. These savory-sweet biscuits are real treat to your sweet tooth as well.
Sweet Potato Beignets
Bid a short adieu to your healthy diet. The right combo of deep friend crunchiness and sophisticated sweetness, this dessert will lure even a person who doesn't love sweets for a second serving.
So, the next time you have sweet potatoes try one of the ideas from these top 10 recipes with sweet potatoes and savor in delight!
Image Credit: ifood.tv
Top 10 Recipes With Sweet Potatoes