High Tea Menu

7 Apr 2011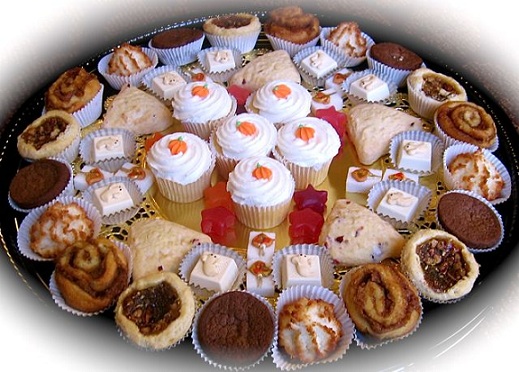 High tea menu is a part of the English meal where you are served with a cup of tea and few light food items. High tea used to be known as meat tea as hearty dishes like meat pie and cheese sandwiches used to be served as part of the high tea menu. High tea menu ideas can be planned based on the event. When you gather to talk, simple tea and light foods like bread and sweets are enough. When it is planned close to dinner, then include items like meat and poultry. These are few interesting ideas that can help youo when you plan a high tea party.
High tea menu ideas
Tea is the important item in High tea, brew a pot of flavored tea or any other type of exotic tea. Some of the popular items to be added are finger sandwiches with chicken and ham as spread. Besides salads and fruits, sweets like cake, fruit tarts and cream puffs are some of the popular high tea menu options.
Finger Sandwiches 
546024-olive-pecan-finger-sandwich.olive-becan-finger-sandwich
Include watercress, smoked salmon, cucumber and egg salad sandwiches that are meant for tea. Watercress is a variety of green that you can get in stores. Thin sliced bread, butter, watercress are used to make this simple sandwich. Serve smoked salmon with cream cheese and pumpernickel bread. Cucumber salads are soft and go well with a slice of cheese. Boiled egg, mayonnaise, bread and onion together give tasty egg salad.
546025-scone-varieties.
Scones are thick pastries that can be dipped into hot liquid. Scones with jam and clotted cream can be served for high tea. You can include many type of scones to your high tea menu like orange glazed, poppy seed, cherry and cranberry.
Tarts and Petit fours 
546026-golden-syrup-tarts.goldeb-syrup-tarts
Individual tarts or sliced large tarts pairs well with tea. Strawberry and lemon flavors are liked by many, and for dieters it can be served with mixed fruit. Petit fours are bite sized tiny cakes that come in chocolate, pound and sponge flavors.
Fruits and Pastries
546027-mixed-fruit-pastries.mixed-fruit-pastries
A bowl of plain fresh cut fruits or chocolate dipped oranges and strawberry can be included in your high tea menu. High tea menu ideas also depends on your guests preferences. Including lot of items made from fresh fruits to make your high tea healthy.
For high tea parties, you can use sliver tea set and Christmas dishes. Set the atmosphere apt for high tea by providing proper table and comfy chairs to your guests. Above all high tea menu should satisfy your guests so try to include items that are popular and tasty.
Image credits: whatscookingamerica.net 
High Tea Menu