How about creating beauty at teatime with blooming tea
2 Apr 2011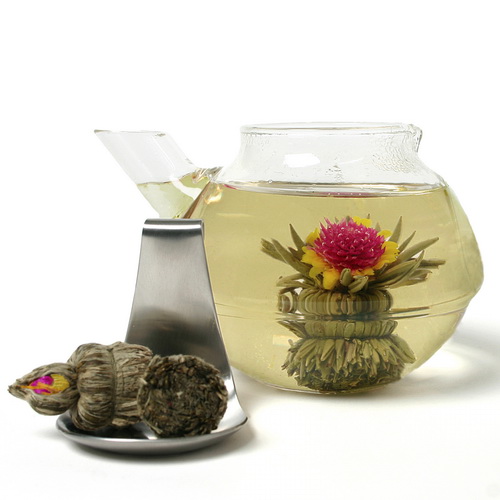 How about creating beauty at teatime with blooming tea? The blooming tea has started to influence our teatime in big way. These handmade teas open up in bundles of flowers when they are steeped into the hot water. Each flower bundled in tea is entirely different from others.
How are blooming teas prepared?
Enjoying blooming tea at teatime not only refreshes our moods but also helps us to create new fashion statements. The blooming teas are prepared by tying up whole tealeaves around chosen flowers. This flower-tea bundle is then wrapped in cotton and dried to give it a particular shape.

We rarely think of the labor involved in production of blooming tea bundles while sipping blooming tea at teatime. The process of blooming tea preparation is an art in itself. It begins with plucking the tealeaves in the morning. The artisans collect damp and good-looking tealeaves in the morning and sort them out on basis of their same height and weight. The chosen tealeaves are straightened out and sewn together in various shapes. Some of the famous shapes include mushrooms, balls, peaches, hearts, cones, and lanterns. The bundles are then sprayed with mild floral fragrance. Once the sewing and bundling process completes blooming tea bundles are dried at 212 degree centigrade for two hours. 
How to choose blooming tea bundles?
Most of the time people end up buying blooming tea bundles on basis of their beauty and flavor. However, the food experts say that if you really want to enjoy the blooming tea at teatime then you should choose them on basis of their types and varieties. If you are not clear about their flavors or type then you may refer to some online publications or even ask the manufacturers about it.
How to prepare blooming teas?
For best results, the blooming tea bundles should be steeped into the pot of hot water. The tea bundles will open up slowly by unravelling their beauty. Here is how you can handle blooming tea at teatime.
Boil water in a kettle.
Put the tea bloom in a pot.
Add the boiled water to the pot with tea bloom.
Allow the bundle of tea bloom to settle at the base and within the span of 8-10 minutes the bundle will open before your eyes. If the blooming tea bundle is taking time to open up then it means that water is not hot enough to allow the bundles to bloom.
Use the bloom to make at least three pots of tea. Do this at one time because the bundle may lose some of its flavors.   
Try to use fresh blooming tea bundles on each day.
With little patience and much care, you can make blooming tea at teatime and make it a memorable affair.
What is to be served with blooming teas?
People may have their own food choices to team with blooming teas. However, greasy and salty foods are not good to be served with blooming teas. You can team it with some healthy snacks, crackers, or biscuits.
We wish you a happy tea time. 
Image Courtesy: natyu.com 
How About Creating Beauty At Teatime With Blooming Tea