What To Serve To Eat At A High Tea

29 Mar 2011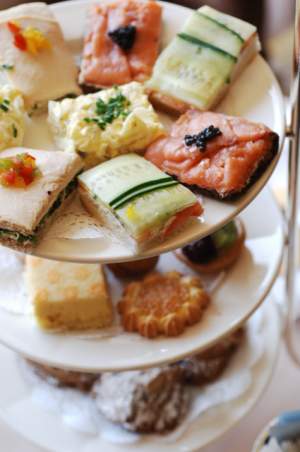 High Tea is a lavish tradition followed worldwide where unlimited tea and finger foods to eat at high tea are served between three and four in the evening. 'High Tea', originally referred to the tea that the British working class had in the evening as a short fill up before dinner. It was called 'high' tea because the tea was had sitting on high stools. Once a utilitarian affair has now become a high-class tradition with proper etiquette followed and designated finger foods served during high tea. But it is often a matter of concern what should be served along tea at high tea. Eating at high tea is simple and if you keep a few munchies in mind to serve, hosting a high tea is easy.
What to eat at a high tea?
It doesn't need special mention that at high tea, serving tea is a must. So set your black tea, the cream and sugar in separate pots on a pretty table. It would look beautiful if the pots for all the three are identical. If not, you can color coordinate them.
It is necessary that you serve finger foods to eat at high tea. Cakes, scones, sandwiches and pastries are best served here. Sandwiches have to be cut to neat triangles and the crust removed. As for fillings, you can prepare sliced salmon and cucumber. Make sure butter is served at room temperature so that spreading it on the bread doesn't become an effort. Also, keep in mind never to serve mayonnaise or cheese as sandwich filling.
Fresh scones need to be served with fillings. The fillings could range from jams to lemon curd or cream. These fillings have to be served in small bowls so that serving becomes easy. You can even serve pastries with scones. The idea is to serve as many finger foods as possible. Quiche and fruit flan are other options.
How to set the table is as important as what to eat at a high tea.  The table can be set with bread and butter plate, spoons, dessert fork, and linen napkins in a napkin ring. Once the arrangements are done you can put the kettle on to boil the water for tea. If you are using loose tea, strain it before you serve the tea to the guests. You can even use tea bags.
 So isn't hosting high tea easy? Now that you know what to eat at a high tea, it becomes all the more easy. So have a great party!
Image Credit: blogs.canoe.ca
What To Serve To Eat At A High Tea