What Are The Culinary Uses Of Dry Pomegranate Seeds

24 Mar 2011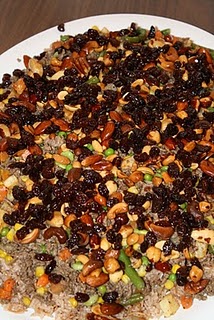 Culinary uses of pomegranate seeds are numerous and are frequently used in Indian and Iranian cooking. It is an interesting substitute for raisins in cakes and other European dishes.
Few pomegranate seeds culinary uses:
Pomegranate juice can be consumed as a drink.

 
Make cocktail and mocktail.

 
For the sour taste in pomegranate juice it is used as a substitute for tomato and lemon in various recipes.

 
Pomegranate dishes also include soups and stews.

 
Pomegranate juice is used as salad dressings and meat marinades

 
Pomegranate seeds are commonly used as a garnish in fruit salads, desserts, vegetable dishes and puddings.

 
Pomegranate juice adds flavor to the foods and to act as a preservative and thickening agent in soups and stews.

 
Roast them and mix it with fruits, nuts and ice-cream to make a wonderful dessert.

 
Roast and powder the pomegranates and use as per recipe requirements in your culinary needs.

 
Pomegranate power has long shelf-life, if stored in air-tight containers and in your refrigerator.
Preferred Methods of preparing Pomegranate Dishes:
By Boiling: Pomegranate soup is usually made by boiling the pomegranate juice with other ingredients. Pomegranate acts as a thickening agent, hence the soup will be prepared thick.

 
By Dressing: Pomegranate juice is often used as a salad dressing.

 
Extraction: Pomegranate juice is extracted from the seeds to be added to various pomegranate recipes.

 
By Garnishing: Pomegranate dishes often include seeds of pomegranate as a garnish for puddings and desserts.

 
By Glazing: Pomegranate syrup is quiet often used to glaze meats.

 
By Marinating: Many pomegranate recipes include meat marinades as it acts as preservative.
Pomegranate Recipes:
Pomegranate recipes are accepted across the world and here are few of them:
Spinach Pomegranate Salad: This is a quick and nutritious salad made with pomegranate seeds and feta cheese.

 
Gullac : It is a dessert from Turkish cuisine made of milk containing pomegranate and a pastry.

 
Pomegranate Glazed Carrots: Certain to be a family favorite, this gorgeous side dish recipe with carrots and walnuts.

 
Muhammara: Its Turkish cuisine made up of molasses, pomegranate juice, roasted pepper and walnuts.

 
Grenadine: It's thick pomegranate syrup extensively used in preparing cocktail drinks.

 
Mustard Pomegranate Pork Tenderloin: A sweet blend of fruit juices is the marinade for this delicious tenderloin recipe.
Culinary uses of pomegranates are many, however having it with the correct blend of fruits helps in booting immune system.
For more information on dry pomegranates, visit ifood.tv. 
Image credits: foodconsidered.blogspot.com 
What Are The Culinary Uses Of Dry Pomegranate Seeds