Top 5 Vegan Cheese Substitutes
11 Mar 2011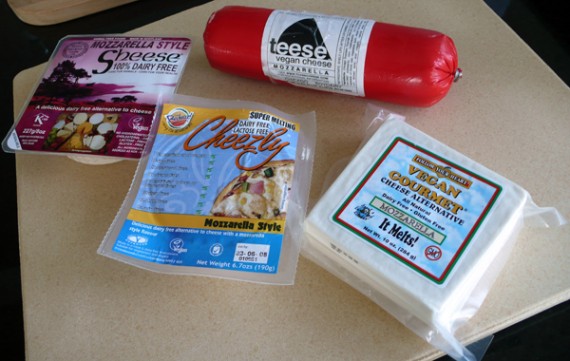 Just turned vegetarian and looking for some Top 5 vegan cheese substitutes? Go through this guide on and see what can you buy cheapest, how to use them that tastes equally good.
Although it is difficult to recreate a dairy product like cheese, some people turn to vegans for their love for animals, hence, came the term vegan cheese substitutes. All those non-dairy ingredients like soybeans, rice, almonds and nutritional yeast, which are used to make cheese, are called vegan cheese substitutes. Here are some cheese substitutes for vegans:
1. Those who can't resist cheese, try Vegan Rella, a block cheese, on crackers and enjoy. Its plastic-type flavor and grainy texture is somewhat strange, hence, recommended to melt it before eating. Try it on pizzas and grilled cheese sandwiches to have this delicious cheesy flavor for just $6-7 per 227gm block. Another one of this price range is Sheese Cream Sheese, which spreads well but is not considered good for baking.
2. Sheese Block Cheese is a little expensive for $10 with an extra strong cheese flavor. It doesn't melt like Vegan Rella but can be shredded and induced to melt otherwise. It comes in wide varieties like Mozarella, Gouda, Blue, Hickory Smoked Cheddar, Chives etc.
3. Those looking for buttery flavor with consistency of softer cheese, try Follow Your Heart's Vegan Gourmet cheese substitutes for $6 per 284 grams. It melts brilliantly. Similarly, you can get Teese Vegan Cheese for same price. It is slightly saltier and has more processed flavor. It is also soft and melts well in lasagnes and pizzas.

 
4. Galaxy Nutritional Foods' Vegan Rice Cheese Slices are considered a great option because it has lower saturated fats unlike other cheese substitutes. This gluten-free and soy-free vegan cheese substitute melt well and has a great flavor.
5. Toffuti's vegan cream cheese spreads are very popular because of its similarity with real cheese. It is best for baking. Toffuti also has cheese slices that are widely used in sandwiches. A pack of 12 slices can be get for $5.
So try out these top 5 vegan cheese substitutes for a cool vegan journey.
Image Credit:  quarrygirl.com 
Top 5 Vegan Cheese Substitutes