What Vitamins Are Present In Sesame Oil

9 Mar 2011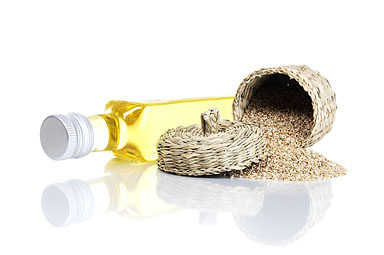 Seasame oil health benefits are multiple and multifaceted; it is not only a popular ingredient in Asian cooking  process but this herabl oil has significant uses in making of Asian medicines, traditional treatments, herbal treatment processes, etc.   Sesame oil health benefits are largely concerned with vitamins in sesame oil. 
Due to sesame oil contents, it is used as a medium of cooking  for many Asian foods; apart from culinary uses, seasame oil is widely used for massages, for treating skin conditions etc. Indistrially, it is  used in soaps, lotions, and cosmetics.
Sesame oil is high in several essential vitamins. It has a high content of Vitamin E. It is said that 100 grams of sesame oil contains 40 mg of vitamin E, which is 75% of recommended daily allowance of this vitamin. Sesame oil also contains sesaminol which helps boosts the positive impacts of vitamin E on human body as well as for the entire health system.
The main health benefit of sesame oil is its antioxidant properties which help to eliminate free radicals or waste products that lead to disease and cell damage in the body. The contents of sesame oil responsible for the antioxidant effects are vitamin E and lignans. These vitamins help to decrease the risk of cancer, heart disease, blood pressure, hypertension and several other infections.
Sesame oil contents also include high amounts of B-complex vitamins, which are responsible for healthy functioning of different body systems. The main forms of B complex vitamins in sesame oil are
B1 (thiamin) and B2 (riboflavin) for overall body functions
B3 (niacin) for skin, digestive, and nervous systems
B5 (pantothetic acid) for overall growth and development
B6 (pyroxide) for nerve, blood, and immune systems
B9 (folic acid) for red blood cell health and DNA
Vitamin in sesame oil also includes small traces of vitamin K, which is essential and responsible for blood clotting mechanism of our body and helps in wound healing.
To obtain the dietary recommended amounts for these vitamins, you would need to consume more than 1/3 cup of sesame oil on a daily basis. 
This nutty flavored oil is an excellent medium for cooking your meals and can be used in salads, to marinate food, to sauté, and stir fry.
However several health experts believe that it is better to consume sesame seeds instead of sesame oil as they provide many nutrients other than those present in the oil. In addition to vitamins, sesame seeds also provide minerals like iron, copper, magnesium, phosphorus, and zinc. Sesame seeds also contain amino acid tryptophan and are high in fiber as well, which are missing in sesame oil contents.
Sesame oil contents also include omega-6 fatty acid and linoleic acid but large amounts of these acids are said to cause inflammation and other ill effects when the oil is consumed in large amounts.
After knowing sesame oil benefits now onward you must keep sesame oil in your pantry, it is a wonderful massage oil too.
Image courtesy - sesajal.com
What Vitamins Are Present In Sesame Oil