How To Stuff Olives With Blue Cheese
9 Mar 2011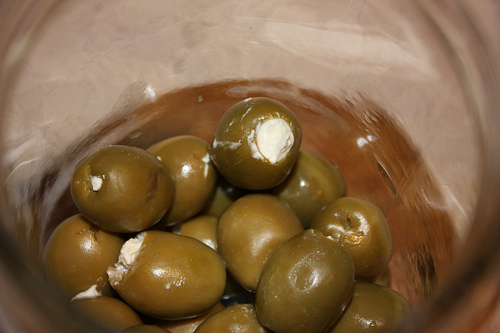 Have you ever tried olives and blue cheese with slow sips of martini? Believe it, these two ingredients when combined together not only sooths your soul but also invigorates your appetite. Here are tips on how to stuff olives with blue cheese'.

 

Healthy blue cheese: Blue cheese is a rich source of calcium and good natural remedy for migraine headaches and bone loss. It naturally regulates blood pressure, reduces premenstrual syndrome symptoms, helps fight cavities and burns fat. It also prevents gout, which is caused by consuming excessive meat, carbohydrates and alcohol. Hence, it is a wise idea to include blue cheese in our daily diet. However, blue cheeses like Roquefort, Stilton, and Gorgonzola have a very strong, tangy flavor and a pungent smell that kids often hate it, but if it is combined with something like olive, it can change the mood of any eater.
Method 1: Things you need: Before you start, collect an olive pitter, cream cheese, blue cheese of your choice, olives, vermouth wine and one steamed and minced garlic clove.
Step 1: Use olive pitter to squeeze the green olives to pop out all pits. Discard them and keep olives on a tray.
Step 2: Mix blue cheese, cream cheese, vermouth and garlic in another bowl until the paste becomes smooth and creamy. Keep this mixture in a pastry bag and dump olives on it. You can also make a cone of freezer paper and use in case pastry bag is not immediately available.
Step 3: Keep it aside for five minutes to get the cheese stuffed into olives. Refrigerate the olives and consume within 24 hours.

Know the calorie count in olives stuffed with garlic or blue cheese here.
Method 2: Things you need: Collect Spanish green olives, olive pitter, jar, blue cheese (buy small quantities of cheese since you only need 2 ounces of cheese for one jar of olives) and read the following steps:

Step 1: Remove olive pits with olive pitter and discard them.
Step 2: Cut the blue cheese in small rectangular shape, which can easily be stuffed into the pitted olive.
Step 3: Stuff cheese into olives. Use a toothpick, if need be.
Step 4: Keep stuffed olives in the jar and refrigerate it for further marinating process. Stuffed olives with blue cheese olives can last for nearly two months.

These easy methods on stuffing olives with blue cheese will make any cocktail or dinner party flavorful and enjoyable.
Happy party time!!!
Image Credit: johnwulff
How To Stuff Olives With Blue Cheese