How To Cure Anxiety With Hemp Seed Oil
16 Feb 2011
This blog tells you about how to cure anxiety with hemp seed oil. Before going into details of how to cure anxiety using the hemp seed oil supplements, let's have a look at the factor called anxiety and how it affects us.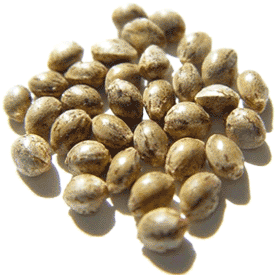 According to Wikipedia "Anxiety is a psychological and physiological state characterized- by somatic, emotional, cognitive, and behavioral components."   Anxiety is recognized by the symptoms such as sweating, dizziness, headaches, weakness and irregular heartbeats, etc.  According to National Institute of Health about 40 million Americans above the age of 18 are suffering from symptoms related to anxiety.  

 


Scientists have recently found that hempseed oil is a natural supplement which can be used for curing anxiety. According to the researchers of University of Kuopio, Finland - hemp seed is derived from the cannabis sativa and it consists of essential fatty acid oils. These essential fatty acids affect the structural and functional activities of the brain.  The compounds in hemp seed oil cure anxiety by easing the functional and structural disturbances that arise in the brain. Hemp seed oil is made up of more than 80 percent acids like alpha-linolenic acid and linolenic acid.  Hemp seed oil has abundant proportions of omega-3 and omega-6 fatty acids in the ratio of 2:1 or 3:1.

 
As said that omega-3 fatty acids aid in functional working of the brain. It was found that the people who are suffering from anxiety are deficient in omega-3 fatty acids. Dr. B.M Ross from the Lakehead University suggests that supplement rich in omega-3 fatty acids can cure anxiety and the symptoms associated with it. Thus, the scientists concluded that hemp seed oil can be used for curing anxiety.  This indicates that eating foods rich in hemp seed oil is the delicious way of straightening the deficiency of fatty acids. Unlike many other vegetable oils hemp seed oil is free from unhealthy hydrogenated fats, and is also free from cholesterol.   The hemp seed oil is rich in fatty acids and offers the health ratio of 3.75-to-1 ratio, which is the largest ratio offered by any natural supplement.

 
Modern science have identified health properties of hemp seed oil and its role in curing anxiety only in recent past but the Chinese had identified it about 3000 years ago.  Since then Chinese have prepared various dishes using hemp seed oil. Hemp seed oil is used for flavorizing the smoothie, stew, sauce and soup and also they are used for dressing salads. Hemp seed oil has low flash point, so it can be used for cooking.

 
After reading this blog you might have got an idea about why you should use hemp seed oil to cure anxiety.  Here are two hemp seed oil recipes which can help to cure anxiety and ease the symptoms associated with it:
Hemp Seed Oil Vinaigrette:  This is prepared by combining ingredients like hemp seed oil, balsamic vinegar, crushed garlic and oregano. Vinaigrette should be stored in the refrigerator for 10 days priot to use.
Green Earth Smoothie: This smoothie is  prepared by combining ingredients like orange juice, green food powder, hemp seed oil, protein powder, pear, banana and ice cubes.


So, the next time instead of heading to your medical practioner, you can cure anxiety by eating food prepared using the hemp seed oil. 
Image Courtesy: bodytemple.com.au
How To Cure Anxiety With Hemp Seed Oil