What Are The Health Benefits Of Vegetable Lasagna?
16 Feb 2011
The health benefits of vegetable lasagna is more than a mouth –watering dish from the kitchens of Italian cuisines, that these days a small cake of vegetable lasagna is included in all diets sorts of diets. The diet ranges will include diet plans for your good health from slimming diet plans to building your bones and to your once in a while dining menu when dine outside in a restaurant.
A deeper look into the vegetable lasagna health benefits will reveal the wholesome potential of the food lies on the potential benefits of the ingredients in the food.
1. Tomato:
No lasagna is complete without the liberal use of tomatoes and tomato sauces and ketchups. Tomato sauce and ketcheps are rich in an antioxidant called "lycopene", this is a type of antioxidant chemical, i.e. it protects the cells again the attack from free radicals. Moreover, a recent study has revealed that regular use of tomatoes reduces the occurrence of prostate gland cancers and the research group claims that having two servings of tomato sauce per week could alleviate the body's system to combat against the potential victims of prostate gland cancer.
2. Calcium:
The cheese that is used as toppings in the vegetable lasagna is loaded with heaps of calcium, which is very important for women who can easily fall prey to osteoporosis following menopause. Though cheese can be a high calorie diet and rich in saturated or the bad fats, there is an alternative option for those who are on the diet for reducing fat cheese and use the cheese prepared from low fat cheese and calorie contents.
3. Veggies: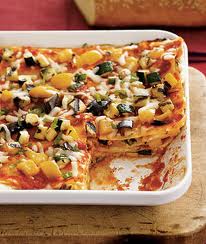 There are wide choice of veggies that you can add to your lasagna ranging from eggplant, spinach, tomatoes, capsicum, carrots and beans, is sure to make your lasagna yummy, and if you are going to finish the meals course with fruits there is nothing more of a nutritious diet that you can better think of. There are heaps of health benefits from these veggies, which will include chronic diseases like cancer to diabetes, and also alleviates and aids in stroke treatment.
4. Whole Grains:
There is nothing like making your lasagna base be made out of whole wheat or multi-grains, which are much healthier than the usual refined grains. This is because these unrefined grains are rich in dietary fiber and is best to shield and will help you in keeping your heart safe and sound. If there is something that you have to do other than checking the packing and expiry date of the lasagna pasta base, you have to see that the base is made of whole wheat grain or not.
Next time when you are going to diet, forget not to include the healthy lasagna in the diet, and that you are not going to miss some yummy food that are nutritious.
Image Credit 1: momsgoinggreengblog.com, Image Credit 2: utsc.utoronto.ca, Image Credit 3: fitseniors.org
Video Credit 1:Sanjeevkapoorkhazana
What Are The Health Benefits Of Vegetable Lasagna?