How To Use Flax Oil On Food

15 Feb 2011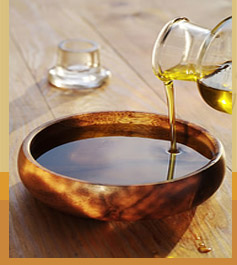 Research says one can use flax oil to improve the nutrient properties of foods. Flax oil obtained from flax seeds is also known as flax seed oil. Use flax oil to take advantage of essential fatty acids and alpha-lioleic acids. That is why doctors recommend using flax oil on food for people with heart problems. Both essential fatty acids and alpha-linoleic acids are unsaturated forms of fat. This helps in lowering the triglycerides and cholesterol levels. Using flax oil on food oil imparts a mild flavor to the recipes. Also, use flax oil to control weight.
An important feature of flax oil is that it cannot be stored for long. It goes rancid if exposed to sunlight. Buy flax oil in small containers as it cannot be stored beyond six weeks. Experts also recommend using flax oil on food and not for cooking purposes. Flax oil on foods increases their nutritional value.
Use flax oil in your breakfast. Add one tablespoon of flax oil in your oatmeal with a fruit. This makes you feel full for a long time.
Additionally, you can use flax oil on whole grain cereal that does not have added sugar. Remember to allow the cereal to cool down before mixing in the flax oil. Using flax oil in hot foods can make the oil degrade.
Use flax oil for you mid day snack. Add one tablespoon of flax oil to yogurt. Use a low fat yogurt. You can also use low-fat cottage cheese or tofu instead of yogurt. Flax oil aids in burning of calories and also increases the body metabolism rate. Yoghurt is a good source of proteins and calcium. So, the muscles and tissues get the required energy. Research suggests using flax oil on dairy products such as yogurt helps to emulsify the oil. So, use flax oil to aid proper digestion.
Flax oil on salads is almost equivalent to consuming one single meal. Replace the other oils in the salads with flax oil. Always just make the required quantity, as flax oil can weather quickly. Use flax oil on shredded carrots, cucumber, baby tomatoes and greens. Add herbs such as basil and rosemary. Mix some lemon juice. The salad is ready.
Use flax oil on foods only after consulting your doctor. While on weight loss regime, plan your diet well and add some physical activity to achieve good results.
Image credits: www.ifood.tv
How To Use Flax Oil On Food