Water Chestnuts (Singhada)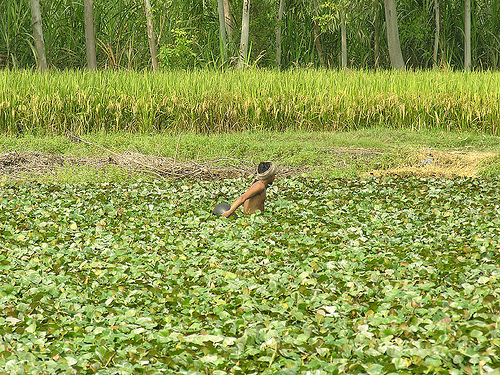 In India a man harvesting the beloved water chestnuts
Water chestnuts are often used in Chinese cooking.  The knobby vegetable with the papery brown skin is a staple in Chinese cooking. The water chestnut is actually not a nut at all, but an aquatic vegetable that grows in marshes. (This is why the ones that you purchase in the store may have a muddy coating.)
The name "water chestnut" comes from the fact that it resembles a chestnut in shape and coloring. Indigenous to Southeast Asia, it has been cultivated in China since ancient times.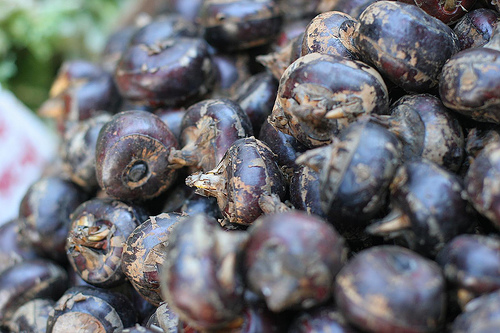 Availibility: Water chestnuts require a long frost-free growing season (7 months) which means that they are only grown in semi-tropical areas, including a few States such as here in California and Florida. I can readily find fresh water chestnuts in most Asian markets year round.Unless you live in an area where they are grown locally, they are generally not available in local groceries and supermarkets.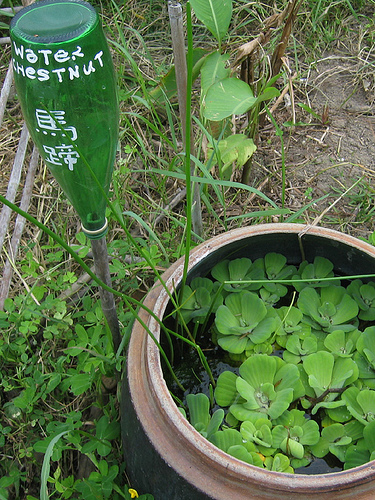 When choosing fresh water chestnuts, look for firm ones with an unwrinkled skin and no soft spots - otherwise when you peel the water chestnut you may find it has softened and turned mushy brown. Generally, it's best to buy a few more chestnuts than needed, just in case a few have spoiled.  Also avoid any chestnuts that look moldy as this taste will permeate the chestnut flesh.
Here is a photo of a boy harvesting water chestnuts after the monsoons.Unpeeled, fresh water chestnuts will keep for up to two weeks in a plastic bag in the refrigerator. I prefer to buy them and cook in boiling water right away.Prior to cooking, you'll need to cut off the top and peel the skin. If you want to peel them ahead of time, that's fine, but be sure to store them in cold water in the refrigerator, with the water changed daily.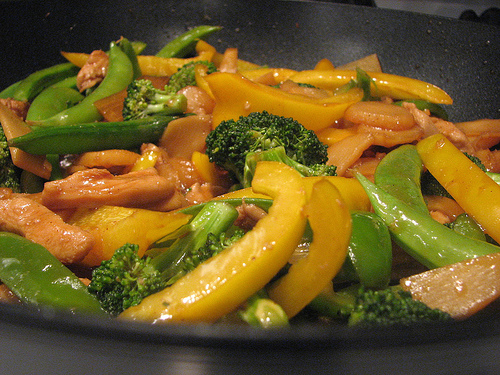 Store canned water chestnuts in a cool dry place and use within a year. Once opened, store the water chestnuts in a sealed container in the refrigerator and use within three days.Preparing Water Chestnuts: As mentioned above, fresh water chestnuts need to be peeled and the top cut off before using. Before using canned water chestnuts, rinse them under warm running water is said to remove any "tinny" taste, but I find them still starchy and tinny.  I much prefer to use only fresh water chestnuts. When to Use Water Chestnuts
Water chestnuts are frequently added to stir-fries, stuffings, and dumpling fillings for extra texture and a sweet flavor. Fresh or Canned?: Fresh water chestnuts are worth hunting for, as they have a sweeter flavor and are quite crisp. However, canned water chestnuts can be used as a substitute, particularly if they are being added mainly for texture. Definitely try to use fresh water chestnuts in appetizers such as Bacon Wrapped Water Chestnuts, or any other dish where the water chestnut is the main ingredient.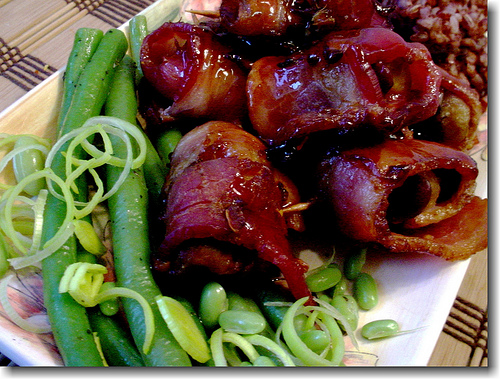 Water Chestnuts Wrapped in Bacon Recipe 
  10 ounces fresh water chestnuts, cooked and peeled8 slices Applewood Smoked bacon, cut in half
1/4 c. lite soy sauce
1 teaspoon grated ginger
1 teaspoon minced garlic 12 Thai chiles, minced (optional)

 

Wrap each water chestnut in a half slice of bacon. Secure with toothpick. Combine remaining ingredients. Pour over bacon wrapped water chestnuts. Refrigerate for several hours. Drain. Marinade can be stored in the refrigerator and reused. Place on metal rack in 7 1/2 x 12 inch utility dish. Cover with paper towel. Cook on high in microwave for 3 minutes. Turn dish. Cook 3 minutes more.  Also wonderful on grill. Serve hot.  Great as a pass around appetizer with drinksMakes 16 appetizers.Variation:  add chicken livers to make rumaki.  Just warap chicken liver with water chestnut on the wooden skewers.

Directions
Mix sugar and soy sauce before marinating chestnuts in the mixture for 30 minutes.
Preheat oven to 400º F.
Wrap each chestnut with ½ strip of bacon and secure with a toothpick. Place a rack in a baking pan and place the bacon-wrapped chestnuts on rack.
Bake 20 minutes. Remove from oven and drain off excess drippings.

Serve immediately or refrigerate until serving. Before serving, reheat in 350º F. oven for 5 to 10 minutes.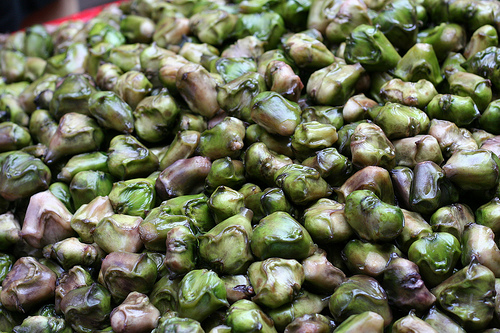 Indian-Chinese Snack1 pound fresh Water Chestnuts, cooked, peeled, cut in half
2 tbsp Butter
1-2 tsp Chile Flakes
3 tsp Garlic, finely chopped
Salt to taste
Melt the butter in a pan and add the garlic. Saute for a minute. Add the chile flakes and fry for another minute. Add the water chestnuts and salt. Cover and cook for a couple of minutes. Remove the lid and saute for another 5 minutes. Enjoy the dish as a starter or an accompaniment to cold beer on a hot afternoon."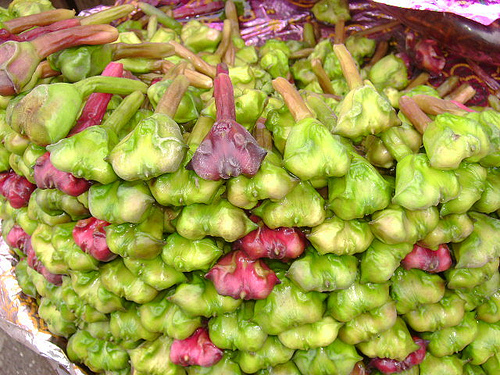 Singhada, the Indian Water Chestnut is green and sometimes bright pink on the outside and white inside. It has a  crunchy and sweet taste.  It is sold by street hawkers either raw or steamed.  When steamed, the outside covering becomes  blackened and it tastes starchy, sort of like a potato.
Singhada is peeled, dried and crushed to get water chestnut flour called singhade ka atta which is used to prepare rotis and pooris.Sawa Ke Chawal Ki Tikki    Preparation Time : 15min
Cooking Time : 10min
Serves / Makes : makes 20 tikkis Ingredients

2Â cups sawa ke chawal,
2Â tbsps singhade ka atta,
salt to taste,
2-3Â green chile minced

 green cilantro chopped 

 Method

Soak sawa ke chawal in water for 1 hour.
Mix singhade ka atta, drained sawa ke chawal, salt, green chiles and cilantro.

Divide the mixture in 20 portions.
Make round balls of these portions and flatten them a bit.
Heat oil in a pan.
Fry till golden brown in color-don't burn.

Lay on paper toweling to absorb excess oil.
Water Chestnut Flour is made from dried, ground water chestnuts. The nuts are boiled, peeled, dried then ground into flour.
The flour, which is actually a starch rather than a flour, is bright white fine powder.
It's primary use is as a thickener. It is also used in Asian recipes to make batters for deep-frying.
Water Chestnut Flour gives a light crust when used for dredging, and stays white as a coating even when fried.
It is very different from French or Italian chestnut flour, which is quite sweet and used for pastries.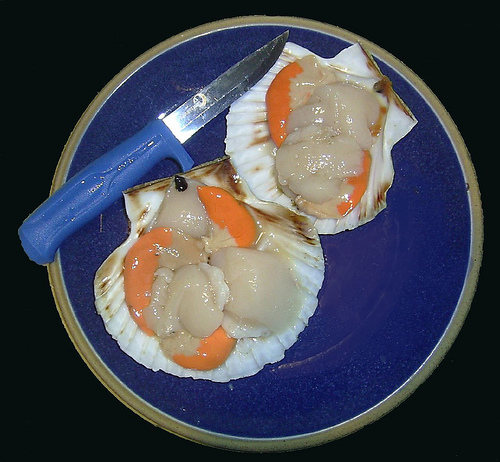 Thai Crispy Scallops with Fresh Water Chestnuts
Ingredients
4 cups Vegetable or peanut oil for frying 1 1/2 cups fresh Shiitake mushrooms 10 large sea scallops, (U 10) 1/4 cup white wine vinegarSea Salt and ground pepper to taste1/3 cup Date Palm Sugar 1 cup Cornstarch 1 1/2 tablespoon Ginger, julienned 6 Thai Dragon chiles1 bunch Thai sweet basil (bai Horpha)10 fresh Water chestnuts 1 bunch Cilantro 4 green onions,  cut on the bias 2" length1 Asian Cucumber, thinly sliced Method:To make chile flowers, hold chile by stem, with sissors slit into quarters but not through the stem. Carefully remove seeds using pointed knife. Place in ice cold water with ice cubes for 20 minutes.  The chiles will curl forming flowers.Heat a large wok heat over medium high heat, add oil, heat until almost the smoking point. Season the scallops with salt and pepper and dredge in cornstarch. Add to the oil and fry until golden brown on all sides. Remove scallops and drain on paper toweling.Add chiles, water chestnuts, green onions, and shiitaki mushrooms. Stir-fry  almost done. Add the rice wine vinegar, date palm sugar and ginger. Stir-fry to incorporate. Plate on large white plates.Garnish with Thai basil, cilantro and cucumber slices, and chile flowers.
Water Chestnuts (Singhada)