What Kind Of Potatoes Can We Use With Leg Of Lamb?
Potatoes with leg of lamb can get along like "ham and eggs" and; the right kind of cooking of both the meat and the potato can accentuate and at the same time blend the flavors so well that you will be left to wonder whether to bite into the leg or chomp on the potatoes.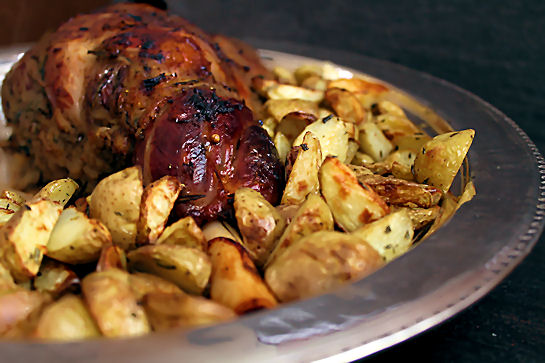 So here are a few recipe ideas to show what kind of potatoes can be used with leg of lamb

•    Leg of lamb cooked with potatoes (piper potatoes roasted) : This recipe uses piper potatoes that are cut into thin slices and seasoned with pepper and are then put on a roasting pan along with the prepared lamb of leg and other ingredients used in the recipe.
•    Roast leg of lamb with boiled and roasted potatoes: The recipe makes use of large baking potatoes, which are quartered and boiled in salted water. The potato preparation involves sautéing them with onions in butter and then placing the mixture around the leg of lamb (prepared and seasoned) on a roasting pan. The set then go into roasting. Slightly sautéed and then roasted, the potatoes with leg of lamb rise in toast to the roast!
•    Roasted leg of lamb with Yukon gold potatoes: Yukon gold potatoes peeled and cut lengthwise are coated with oil and rosemary leaves. The potatoes are then placed around the prepared lamb of leg on the roasting pan. Once done, the potatoes with the leg of lamb, all dressed in the flavor of herbs and the fat drippings taste yum.
•    Roasted leg of lamb with garlic and lemon floury potatoes: The recipe uses leg of lamb with floury potatoes. Here the potatoes are scrubbed and put in a roasting pan and tossed in olive oil. Oregano and thyme sprigs are added to the mixture along with garlic and the prepared leg of lamb then go into roasting with other seasonings by placing it on top of the potatoes. With  the roast edand, the floury texture of potatoes seeping through, you get to crunch and munch at the same time.
•    Roast leg of lamb with minted new potatoes: Here, new potatoes are scrubbed and put them in a large pan of water to boil. To this, add concentrated chicken bouillon, sprigs of thyme and mint, bay leaves, garlic and a little bit of salt  and bring it to boil again. Once the potatoes are cooked, drain out the liquid and place potatoes in a  pan along with chopped mint, unsalted butter and season them with salt and freshly ground pepper. Minted new potatoes with roasted leg of lamb give all the freshness to a recipe that contains the versatile potatoes.
•    Roast leg of lamb with baby potatoes: Here white baby potatoes are used, which are tossed in a heavy skillet with 1/4th cup of olive oil and covered. Depending upon the softenness you require in the baby potatoes, allow it to remain in the skillet after which garlic salt and dill tips are added and tossed so that the potatoes are coated well. This is one type of potatoes to be used with leg of lamb.
•    Leg of lamb with russet potatoes: Here peeled and quartered russet potatoes are drizzled with extra virgin olive oil and seasoned with salt and pepper. These are placed around the leg of lamb in a roasting pan and allowed to roast.
•    Leg of lamb with sweet potato green bean gratin: Here the sliced thin sweet potatoes are layered with green beans, egg nog, caramelized onions and parm, which go into the oven for baking at 375 degrees for an hour. Sweetness with  the succulent leg of lamb dishes out an irresistible flavor that the leg of lamb with sweet potatoes is a dish, which scores high.
The above mentioned are a few of the recipe ideas featuring certain  type of potatoes with leg of lamb. You could channel your creative juices and come out innovatively to dish out something juicy, spicy, sweet, hot or a blend of the many celebrating your culinary expertise!

Photo Courtesy : lindentea.com