What Are The Seasonal Fruits And Veggies For February Month
8 Feb 2011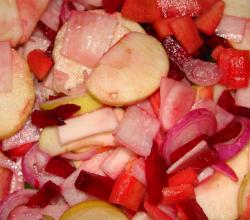 With the month of February being vibrant with onset of spring and verdant fields giving a rainbow like look around the environment, you will get to taste avrieties of seasonal fruits and veggies. You can make the month of love and vitality more colorful by infusions of several seasonal ruits and veggies which are available at with cheap versions. We must relish the tasty treat of seasonal fruits and veggies and add color to our life. Some of the February fruits and veggies come into play here which are worth noting.
1.  Apricots- Apricots finds its place in our kitchen shelves without much fuss. The plump and round offering of spring season is gift to health conscious stuffs. Apricots are either eaten raw or become the essential ingredient of plum cakes and healthy snacks. Speaking of nutritional benefits, apricots score high on other fruits. It is sodium free, loaded with fibre, wonderful source of vitamin A and C.
2.   Asparagus- Another treat to relish is seasonal grass known as asparagus. It is fat free and great source of folate. One must be wary when storing it as special care must be taken to store it in refrigerators.
3. Raspberries- Well tasty treat of raspberries can be great to turn on upset mood. Raspberries are fruits which are high with vitamins. It could be a scrumptious start to a great day if taken as a part of brunch.
4.  Cherries- Cherries are truly mouth watering fruit which could be included in deserts, pancakes, or puddings. It is great source of vitamin A.
5.  Broccoli- It imparts heat nutrition if included in soups. The florets of broccoli are known for being rich source of vitamin B.
6.  Beet- Another powerful veggie known to add vigor and included in pep-up diets. It tastes wonderful if turned into hot boiling soup. Beet is a very good laxative and potent source of iron.
7.  Spinach- Everyone is well acquainted with health benefits of this green veggie. It is superb source of iron and vitamin A.
8. Cucumber- The cooling veggie is must be included in diet plan. It is part of salad and starters.
The season of February offers great delight by being the month of colorful fruits and veggies. Seasonal fruits are best to eat as they are so fresh and handpicked. The veggies and fruits can benefit a lot in long term health matters and one must cultivate the habit of savoring them.
Image credit: ifood.tv
What Are The Seasonal Fruits And Veggies For February Month