Potatoes - the world's most preferred vegetable(Part2)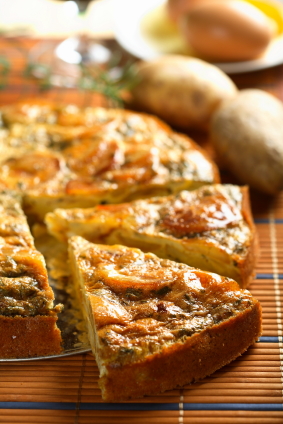 Pic courtesy: Â http://www.ifood.tv/recipe/sweet_potato_casserole
Potato is undoubtedly, a staple food the world over. Potatoes is a favorite with most of us. In fact, I have observed that potatoes are one that is liked by most immaterial of the age factor. Guess that explains the popularity of the french fries which crosses over all physical and age barriers. The Mc fries are truly one irresistible dish for me. Â 
I have this unwritten rule at home for my daughter. Vegetables whatever be the preparation is a must have on a daily basis. Being a fussy eater or more a vegetable fussy eater she finds it real hard to fulfill my requirements of eating vegetables everyday. Anyway being the dictator mom I am when it comes to eating, she has to eat it anyway. The surprise element is that she too loves potatoes. On days when I the vegetable is the potato she finishes her food without a word. In fact, she has gone to the extent of not including potatoes in the category of "vegetables". Cooking with potatoes too is also a lot of fun for me with the numerous options that are available. It can be combined beautifully with other veegtables or even lamb, chicken or beef. From baking, frying , boiling to currying it, I must admit that for me too it's a fun vegetable.
 The year 2008 has been declared by the United Nations as the "Year of the Potato". This is with the aim of promoting the potato, a very versatile food crop. The exercise is to provide information regarding its nutritional value and benefits. Potatoes unlike the general misconception are very rich in several of the essential nutrients. A few potato facts for you:
·         Potatoes are the world's most popular and widely cultivated tuber crop. Among the tuber crops variety, potatoes are the ones with the highest protein content.
·         It stands fourth in the list of the world's food crops only next to rice, wheat and maize.
 ·         China is the world's largest producer of potatoes followed closely by India.
·         Potatoes are the best known source of carbohydrates and thus, is most suited to meet your daily energy needs.
·         A rich source of fiber, vitamins and minerals; the potato has a high level of thiamin, folate, niacin, phosphorus, iron and magnesium.
·         Potatoes are an affordable vegetable and thus, serve as a good source of food, energy and nutrition for the poor and downtrodden sections of the society.
·         While cooking potatoes, it would be best to slice the potatoes into similar sizes so that they cook well and evenly.
·         While selecting potatoes, the skin of the potato is a major indicator of the health of the vegetable. Choose one with a firm skin and without cuts. Do not pick those that are green in color.
·         Potatoes must be stored in a cool, dark place that offers good ventilation.
·         It is not advisable to freeze cooked potatoes as they would leave out water while re-heating.  
With the growing production and also the demand for this wonderful vegetable, potatoes have definitely to be crowned the "Most popular vegetable in the world".  
Potatoes - The World's Most Preferred Vegetable(Part2)