How To Reduce The Acidity In Eggplant

31 Jan 2011
Who hasn't heard of eggplant or aubergine or brinjal? But how many are aware of the acidity in eggplant? The answer is very few.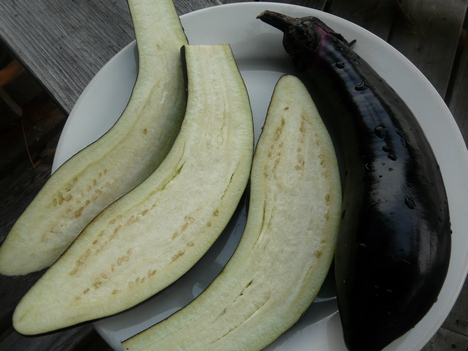 Native to India, eggplant belongs to the nightshade family of plants.
It is a rich source of potassium, folic acid, vitamins, minerals and phenolic compound known as chlorogenic acid, which is responsible for acidity in eggplants.
In fact, a cut eggplant turns brown because of the presence of phenolic acids in it.
Though we've been using it in our day-to-day cooking for years, hardly many are aware that the acidity in eggplant renders it a bitter taste.
Reducing acidity in eggplant is not a herculean task and neither is it a complicated one.
By following these simple steps, you can easily get rid of acidity in eggplant.
How to reduce the acidity in eggplant:
First of all, select good quality eggplants. Go for the ones which are shiny, smooth and firm—all indictors of the fact that it is a good quality eggplant.
Wash and slice the eggplant in desirable size and sprinkle some salt over the slices to reduce acidity in eggplant.
Keep the eggplants aside for around 15-20 minutes so that the water drains from it, taking away the acids present in it, hence reducing acidity in eggplant.
After the stipulated time, pick up the eggplants and again squeeze a little to drain out the remaining water and the acidity in eggplant.
Now, after reducing the acidity in eggplant, go ahead and cook up any way you want to, in fact certain dishes made from eggplant like-- ratatouille, baba ghanoush, parmigiana di melanzane are famous across the world and you can try them at home to surprise your family! 
Image credits: treehugger.com
How To Reduce The Acidity In Eggplant