How To Use Lemon Zest

15 Jan 2011
The rich, glossy, yellow colored outer covering of lemon is called lemon zest. The volatile oil in the zest makes it useful for various culinary and non-culinary uses.
The process of taking out the zest of lemon is called zesting.  Zesting a lemon can be easily done with the help of a knife, a grater or a zester.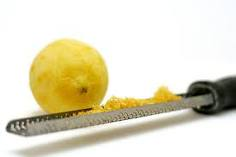 Lemon and lemon zest both are considered very useful and they have always made their place in every kitchen. Let's see in what ways we can make use of lemon zest:
For culinary purpose- Lemon zest is used for adding flavor to baked goods, desserts, rice and many other dishes. It is also used to add flavor to various mixed drinks and beverages. It can also be used as a food seasoning.
For beauty treatments- Lemon zest is widely used by women for many beauty treatments. When rubbed on face, it makes the skin glowing and smooth. It is also used for preventing wrinkles and spot. Application of the zest of lemon adds shine to the hair also. In other words, lemon zest is a true caretaker of any woman's beauty.
For odorless, clean utensils-  if you want to get rid of the odor of your utensils, just take some lemon zest and put it into lukewarm water and put it over your smelling dish for some time. You can also add vinegar to the same. The smell will vanish in few minutes. So next time your chopping board or knife smells of fish or meat use lemon zest for better results.
For removing stains- Are there any coffee stains on your coffee mugs and you just hate them?  Well, it's time to say bye to them as by using zest of lemon you will not find them anymore. Just soak some dry lemon zest in water and after some immerse the stained mug in that water. Let it be there for few hours. Later with a damp towel, clean the mug. The stains will disappear.
For shiny surfaces- Lemon zest works well as a sparkle enhancer. Be it your kitchen tiles, bathroom taps or the stained floor; lemon zest works on all. Just scrub the surface directly with lemon zest and leave it for some time. Wash them with water or a damp cloth after some time. You will have every surface shining.
So now whenever you slice a lemon, keep aside the lemon zest for its amazing uses.
Image credit- www.crumblycookie.net
How To Use Lemon Zest