How To Use Fresh Herbs In A Variety Of Ways

8 Jan 2011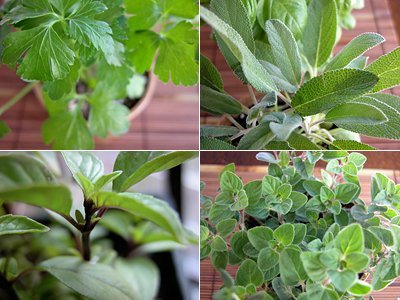 Herbs are of many varieties and the degree of aroma in each of them varies hugely. Some are lightly aromatic while others are extremely flavored, so as a novice cook one should know how to use fresh herbs in a variety of ways to get the best out of them.  Secondly, each herb reacts differently at different temperatures and conditions so using fresh herbs is critical in cooking. A few tiny leaves of fresh herb can convert a simple plain dish into a gourmet dish provided the techniques of using fresh herbs are known.
Here I have some very useful tips on using fresh herbs; I have learnt them after using these for years. If you keep these tips in mind then there is nothing that can go wrong with your dishes even if you are using fresh herbs for the first time.
Fresh herbs should be at room temperature when they are used for cold dishes.
For long cooking recipes, always use a small bunch of herbs.
Make plain simple recipes delicious by garnishing them with finely chopped fresh herbs. It will enhance the taste by many folds.
Mild flavored recipes like salads can be dressed with a mixture of fresh parsley, chives, chervil and tarragon.
Always add small quantities of fresh herbs if you are using fresh herbs for the first time. As they are quiet flavorful, a small quantity is just sufficient. Add more if required because using too much of fresh herbs can make the dish less appetizing.
While mixing fresh herbs, use only one highly flavored fresh herb along with 1-2 lightly flavored fresh herbs.
Fresh herbs for garnishing should be chopped very finely. Oil from fresh herbs is released upon chopping so the more they are chopped the more flavorful they will be.
Always practice using fresh herbs at the end of the recipe because cooking fresh herbs reduces the flavors. Stew and soup recipes require adding fresh herbs about 45 minutes prior to completion of the cooking.
Dips, dressings and cheeses with fresh herbs require making the dish several hours before eating.
Avoid storing fresh basil salad dressing because it would turn bitter.
Fresh herbs can be used directly in salsa, picante and hot sauce.
Using fresh herbs in cooking is real fun as it gives the flexibility to play around with different flavors. One can use fresh herbs to enhance flavors of low sodium recipes and this is popular way of reducing intake of sodium for health conscious people. Hence use of fresh herbs can help you remain healthy in an aromatic way of eating.
Image Courtesy: tantarobina.com
How To Use Fresh Herbs In A Variety Of Ways