How To Use Saffron Threads In Daily Cooking
7 Jan 2011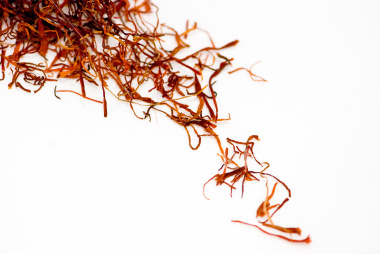 "How to use saffron threads in daily cooking?" - Mrs. Elaine. Robinson expressed her views on this topic, during the cookery workshop organized by local housewives organization.  Her talk was enriching because she enlightened us with her amazing cooking knowledge. I thought of writing this blog after listening to her.  I know most of us use saffron threads for cooking.
Saffron has been used as a spice and coloring agent since last many centuries. And it is also valued for its medicinal properties. That makes it one of the costliest spices of all time. Mrs. Robinson said that Europeans were supposed to be the first people to use saffron threads in food preparations. True saffron is produced from the stigmas of crocus sativus. Due to low yield of crocus sativus mostly safflower is substituted for saffron.  This safflower saffron is known as Mexican or American saffron.
I have heard many of my friends fretting over its high prices. Even I have heard people complaining that the spice is not worth its cost. Mrs. Robinson told us that most of the people love to use saffron threads in cooking but they rarely bother to check the authenticity of the saffron threads that they have bought. Most of us end up buying the Mexican saffron/American saffron. The Mexican saffron mimics the color of the original saffron but fails to mimic its flavor.  
If you have made up your mind to use saffron threads in daily cooking then following points should be kept in mind while buying them:
The tips with deeper hues of red and orange are considered to be good ones. If the saffron strand tips aren't orange then that means saffron is of poor quality. Also, poor saffron looks slightly frayed and worn out. Remember that saffron derives its coloring capabilities from its orange red tip not from the yellow portions that is remains uncut in the lower area. The saffron threads that exude too much bright yellow color are probably not the real ones. Beware of falling prey to such alluring hues.
Always go for fresh saffron that is aged less than a year. Check the date indicated on the brand to judge the freshness of the saffron.  The saffron strands tend to lose their flavor with time.  You can judge the saffron from its aroma too. The older saffron has slightly pungent aroma compared to the fresher ones.  Remember that fresh and good saffron always exude sweet aromas.
Avoid buying saffron threads with yellow tips because that is not decent saffron. And it is not potent as the red saffron.
Remember the saffron labeled as Mexican, American and Turkish is not true saffron.
Now the next thing question on your minds will be how to use saffron threads while cooking?
Soak a spoon of saffron strands in three teaspoons of liquid. For enhanced flavors the saffron should be soaked in liquid at least 2 hours before you plan to use it. The leaves will expand at least 1 ½ times their original size.
If you are in a hurry soak a spoon of saffron strands in atleast 5 teaspoon of liquid for about 20 minutes. You can make a thick paste of this mixture by crushing them. This paste can be added to food.
If your recipe involves water or broth then use the saffron threads after soaking them in liquid (which you are going to use for the food preparation) at least 20 minutes before you start cooking.
For enhanced flavor you can use saffron threads after toasting in the pan for few minutes. Crush the toasted saffron threads and use them in your food preparations. Take caution not to burn the saffron threads.
Store the saffron in air tight container away from sunlight. If proper care is taken then saffron can stay fresh for long time. 
Image Courtesy: istockphoto.com
How To Use Saffron Threads In Daily Cooking