How To Use Fresh Green Tomatoes In Daily Cooking

3 Jan 2011
If you have bought some firm, unripe green tomatoes and wondering how to put them to good use, then here are some suggestions on How To Use Fresh Green Tomatoes In Daily Cooking .
Green tomatoes can be categorized in two sets. Firstly, the tomatoes that have failed to adequately ripen, and the second category where the tomatoes have this pretty green color even after they have ripened. This second group includes tomatoes like the green grape, green zebra, green giant, green pineapple, and the lime green salad tomato. You can use these tomatoes in salads, to add beautiful color contrast in it. Just make a tomato salad with different varieties of green tomatoes and you'll be amazed to see how beautiful the salad looks with differently colored tomatoes.
Fried Green Tomatoes
This a very popular side dish with green tomatoes as the basic ingredient. Green tomatoes are cut into ¼ inch slices and are coated with cornmeal, seasoned with salt and pepper and shallow fried. This is a staple dish in many southern American homes.
Pickled Green Tomatoes
Make amazing pickle with fresh green tomatoes and enjoy it everyday with you food. The pickle can be served with hot dogs and hamburgers. You can add them to the sandwiches for the tangy flavor. The combo of pickled green tomatoes and a pastrami sandwich is to die for. Pickled green tomatoes make a great garnish for a martini!
There are two main methods for making this pickle: the canning method and the refrigeration method. You can pick either of these two methods that yo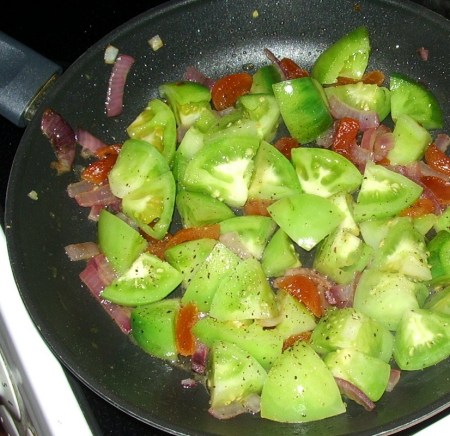 u find convenient to make the pickle.
Salsa, Salad, etc.
Use fresh green tomatoes to make salsa. Immature tomatoes are good to have as a salad or alongside eggs and hamburgers. You can also stuff them in your sandwiches.
 Mincemeat
Alternately, one recipe enjoyed by many is green tomato mincemeat. Unlike traditional mincemeat, the green tomato variant usually doesn't contain suet. For vegetarians or those looking to reduce fat, eliminating suet, but still having mincemeat bursting with flavor is a very desirable thing, especially when making holiday pies and tarts.
Green Tomato Ketchup
Make ketchup with green tomatoes and enjoy with burgers, chips, sandwiches, etc. To make this ketchup, you will need, green tomatoes, onions, mustard, pepper, pickling spices, vinegar and honey (or sugar).
Baked Green Tomatoes
Cut green tomatoes into ½ inch slices, coat with cup coarse buttery cracker crumbs, and season the slices with salt, pepper and little brown sugar. Bake until golden brown. You can relish this dish as a snack or an appetizer.
Now that you know how you can use fresh green tomatoes, go ahead and make some interesting dishes with them and grab all the appreciation coming your way! Good Luck!
Image Credit: scienceblogs.com, d2eosjbgw49cu5.cloudfront.net
How To Use Fresh Green Tomatoes In Daily Cooking